Angels & Demons
(2009)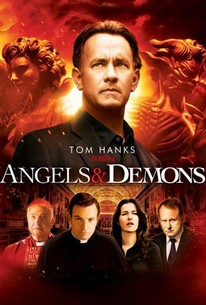 TOMATOMETER
AUDIENCE SCORE
Critic Consensus: Angels and Demons is a fast-paced thrill ride, and an improvement on the last Dan Brown adaptation, but the storyline too often wavers between implausible and ridiculous, and does not translate effectively to the big screen.
Movie Info
Angels and Demons re-teams director Ron Howard and star Tom Hanks for the sequel to their international blockbuster adaptation of Dan Brown's novel The Da Vinci Code. Although the book Angels and Demons was written before the novel The Da Vinci Code, the movie transpires after the events of the earlier movie. Hanks stars as professor Robert Langdon, the most respected symbologist in the United States, who uses his knowledge in order to decode a symbol on the skin of a murder victim. The clues put him on the trail of an international conspiracy involving the Catholic Church. Ewan McGregor and Ayelet Zurer also star in the Sony Pictures production. ~ Perry Seibert, Rovi
Critic Reviews for Angels & Demons
Audience Reviews for Angels & Demons
½
With much better pacing than the notably irregular The Da Vinci Code, this is an entertaining adaptation that delivers what it sets out to and is far superior to the novel, since it is clever enough to avoid some of its most ridiculous situations and implausibilities.
Carlos Magalhães
Super Reviewer
½
It is very rare that a film gets a sequel that is completely detached from its original premise and improves on it. While these films will never be Oscar winners, there is a certain charm to them that I admire. Angels & Demons marked the second novel to film adaption from this book series, and this one is a much more fleshed out story. While there is nothing all that remarkable about either film, a mystery needs to keep you interested and entertained throughout its entire duration. While I do have quite a few of the same complaints that I had the first time around, this is without a doubt the superior film. Here is why Angels & Demons works much better and still holds up to this day, in my opinion. In the first film, the plot relied on the fact that everyone who is religious will love the clever puzzles. While Angels & Demons definitely dives further into the Catholic religion, directly placing the death of a pope at the centre of the story, it does expand its horizons a bit, making itself a little more accessible to average viewers. Following Robert Langdon once again, he tries to solve the murder of the pope, which also sets him on a plot to find an explosive device that may just incinerate all of Vatican City, Rome. While the plot does escalate fairly quickly and it does require audiences to be paying full attention, this is a much more exciting puzzle, through and through. That being said, as mentioned above, it does share many of the issues that the first one admittedly has. Once again, this film dives far too deep into the Catholic religion, making it hard for non-believers to have a good time at the movies. Normally, films like this have a nice balance between its religious aspects and its open mindedness. Sadly, this film, like the first, goes all out in terms of trying to impress its Catholic audience; However, compared to the first, it is not quite as manipulative. Instead of beating you over the head with it, it uses bible elements and shares them with character actions throughout this picture, masking the fact that it truly is for a specific audience. This was a much better tactic than I believe the first one slightly failed on. While The DaVinci Code was known for its puzzles and slow-pacing, this film focusses more on setting up plot twists and keeping its audience entertained. There are far more action sequences here and the puzzles lead to life or death situations. This provided many more stakes, which the first one kind of failed to do as well. Still, the biggest selling point of these films is the fact that Tom Hanks is the leading man. His charm and charisma that he brings to this character is unparalleled. I truly believe that these films would become pretty boring without the presence of a star like Tom Hanks. Does this film hold up as a whole after seven years? Over the years, films begin to wear off when it comes to sequels. People tend to remember the original, due to the fact that is spawned lacklustre sequels. In my opinion, when I look back on this series of films, I will definitely be remembering Angels & Demons over The DaVinci Code. It provides more puzzles, more stakes, and a climax that is enthralling to say the least. There are moments that I do call manipulative and the direction of this film (like the first) feels a little too kinetic at times, which is Ron Howard's style, but it is odd for these films. There are plot holes galore and I know I have not read these books, but I feel that they would be more fleshed out that these films. In the end, Angels & Demons is a pretty fun and engaging ride, albeit very messy.
Much like the novel on which it's based (all of Dan Brown's Robert Langdon novels, in fact), if you can get through the first 10 per cent of the story - exposition and explanation clunking at every turn - you'll get swept up in the action and pace of the story. I might have even liked this movie more had I not read the book first, as I knew what the plot twist was going to be... and that I remembered this years after reading the book, when seeing the movie, is endorsement enough. Not nearly enough literature puts story first... whereas in (popular) film, you pretty much have to. Pulse-pounding, if a little contrived and overlong. Worth seeing once. I though Tom Hanks was especially well cast.
Daniel Perry
Super Reviewer
Angels & Demons Quotes
| | |
| --- | --- |
| Vittoria Vetra: | Are you really a symbologist or it was a joke? |
| Robert Langdon: | Er... both. |
| | |
| --- | --- |
| Inspector Olivetti: | Are you anti-catholic, Professor Langdon? |
| Robert Langdon: | What?, No. I'm anti-vandalism. |
| | |
| --- | --- |
| Commander Richter: | God particle? |
| | |
| --- | --- |
| Father Simeon: | I need to see the Camarlengo. |
| Chartrand: | He is not available |
| Chartrand: | He is not available. |
| Father Simeon: | I NEED TO SEE THE CAMARLENGO! |