The Great Buck Howard
(2009)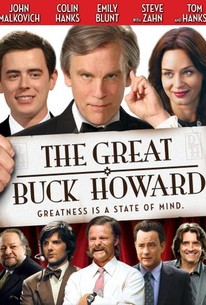 TOMATOMETER
AUDIENCE SCORE
Critic Consensus: By turns fluffy and biting, this show biz comedy is given girth by comic heavyweight John Malkovich and made all the more charming by Emily Blunt.
The Great Buck Howard Photos
Movie Info
Once upon a time, Buck Howard spent his days in the limelight. His mind-boggling feats as a mentalist extraordinaire--not to be confused with those of a mere magician--earned him a marquee act in Vegas and 61 appearances on Johnny Carson's Tonight Show. In his own humble opinion, his talents go far beyond simple sleight of hand - he can read minds and hypnotize not just a single soul but an entire room of people! But nowadays, it's clear to everyone but Buck that his act has lost its luster; he performs in faded community centers and hasn't sold out a theater in years. Yet, with a hearty handshake and a trademark "I love this town!" Buck Howard perseveres, confident in his own celebrity, convinced his comeback is imminent. He just needs a new road manager and personal assistant. As it turns out, recent law school drop-out and unemployed, would-be writer Troy Gable needs a job and a purpose. Working for the pompous, has-been mentalist fills the former requirement, but how it satisfies the latter is questionable, especially to his father, who still assumes Troy is in law school. Nonetheless, with the aid of a fiery publicist and a bold stroke of fate, Buck surprisingly lands back into the American consciousness, taking Troy along for the ride of his life.
News & Interviews for The Great Buck Howard
Critic Reviews for The Great Buck Howard
Audience Reviews for The Great Buck Howard
½
Get ready for the comeback of a lifetime. Very good movie. More than what I expected! Nicely done, this film is funny and likable. A modern story about life dreams, the fierce entertainment industry, and the sadness that hides behind a bad temperamental person. Every well-known actor that appears in this film,even if they play short cameo roles, plays an important part. A truly heart warming movie in a bit of an old fashioned way. Go watch it! When a law school dropout answers an advertisement to be a personal assistant he unknowingly signs on to work for a belligerent has-been magician struggling to resurrect his career. This leads to a journey across the country staging the comeback of a lifetime.
Buck Howard: I love this town!  "Greatness is a state of mind" I love this movie. Although, there were a few things wrong with it, such as Colin Hanks in the lead role(he's not his dad), the movie succeeds as a short charming comedy. The story or movie for that matter is nothing spectacular. It's actually quite average. But a great performance from John Malkovich and a solid supporting cast make for a great movie.  A movie that features both Malkovich and Emily Blunt will never be completely horrible. If not for their presence alone, there is always something to take away from a movie with one of them in it. Malkovich is in my top 5 favorite actors and right now Emily Blunt is probably my favorite movie star to watch. The rest of the supporting cast such as Steve Zahn and a little role from Tom Hanks are great as well. There is also an endless supply of cameos.  The movie is purely a fun movie that comes off as a sweet and touching little film in the end. The movie never tries to hard to make us laugh and I wouldn't be surprised if a lot of people don't laugh once throughout the entire movie. Obviously from the rest of the reviews, it seems I'm in the minority in liking and laughing at this one. I'm fine with others not liking this. Much like Charlyne Yi's Paper Heart, it has a small target audience. But that audience is out there.
Melvin White
Super Reviewer
"But I had learned from Buck that when you do the thing you love, somehow, magically, you find the money." The Great Buck Howard is a slightly above average movie with an excellent cast. John Malkovich, Colin Hanks, Emily Blunt, Tom Hanks, Steve Zahn, and others all contribute to this "slightly based on a true story" movie about a traveling mentalist and a young man searching for what he wants to do in his life. The movie is at various times sentimental, sad, and amusing. It's something that's worth a watch if you're a fan of Colin Hanks or John Malkovich, as both of them give good performances. Malkovich is an old-school entertainer who has been around for years and relives a shadow of his former glory by performing for small cities and towns across the country. Hanks is a somewhat aimless young man who just dropped out of law school and works as a road manager for Howard. Emily Blunt gets third billing as a love interest/plot device, but she also gives a fine performance. I found myself enjoying The Great Buck Howard, though it's not an amazing movie by any means. It's a pleasant (if slightly bland) way to spend a couple of hours, though, and I recommend it to anyone who is interested.
The Great Buck Howard Quotes
There are no approved quotes yet for this movie.