The Bank Job
(2008)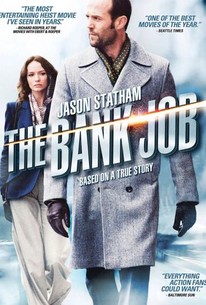 Movie Info
A car dealer with a dodgy past and new family, Terry has always avoided major-league scams. But, when Martine, a beautiful model from his old neighborhood, offers him a lead on a foolproof bank hit on London's Baker Street, Terry recognizes the opportunity of a lifetime. Martine targets a roomful of safe deposit boxes worth millions in cash and jewelry. But, Terry and his crew don't realize the boxes also contain a treasure trove of dirty secrets--secrets that will thrust them into a deadly web of corruption and illicit scandal that spans London's criminal underworld, the highest echelons of the British government, and the Royal Family itself--the true story of a heist gone wrong, in all the right ways.
News & Interviews for The Bank Job
Critic Reviews for The Bank Job
Audience Reviews for The Bank Job
A London model is arrested for drugs trafficking by MI5 and blackmailed into arranging the robbery of a Bank vault to reclaim some embarrassing photographs used by a corrupt black activist to obtain immunity. I wish Jason Statham would stop trying to be the cockney Van-Damme because this is what he is really good at. One criticism you could instantly level at this film is that the plot is so far-fetched, but bizarrely it's actually a true story. At the beginning it appears to be a decent if slightly run-of-the-mill heist movie as the usual collection of lovable East End villains plan and execute their scam but it's actually after the event that this film gets really interesting. The tone darkens and as it gets more hard-boiled and grim, the better it gets. The direction can seem a little hurried as it tries to cram in all the relevant threads, but solid writing intertwines the several sub plots cleverly and its constantly entertaining. Darker, grittier and above all better than all of the Ocean's films and a great, unpretentious, old-fashioned British crime drama that can stand shoulder to shoulder with the best of them. Well worth checking out if you enjoyed the similar and Academy Award winning Argo.
Recommended for the fan of bank heists, it has a decent plot that keeps you following however the biggest point is that it's a true story.
Sophie Burgess
Super Reviewer
Taking a glance at the title, preconceived notions popped out, telling me that this was gonna be one of those movies where a crew with individual talents are gonna be made up to pull off the perfect heist. Typical heist movie, right? Wrong. "The Bank Job" interweaves a clever narrative with genuinely thrilling moments. There's a lot to like about "The Bank Job". First off, we're gonna needa bring Jason Statham back in the acting game because he fills in the shoes of the main character quite well. And during the ride, there's a stellar script, driving the story forward in an entertaining fashion. The narrative's tight, fast, and takes interesting turns, and there's some gripping scenes. Unfortunately, near the 3rd act of the movie, the movie begins to become a bit stale. "The Bank Job"'s real killer though is the lack of substance. Yes, it's based on a true story and by the finale, there is a conclusive wrap up that goes beyond just a simple heist, but it seems nothing more than an entertaining time-passer-by. "The Bank Job" is an enjoyable movie. It's a good movie, but not a great one.
The Bank Job Quotes
| | |
| --- | --- |
| Lew Vogel: | I have a very jaundice view of life, from what I see most of it is corrupt, venile, and vile. |
| | |
| --- | --- |
| Lew Vogel: | I think drugs are responsible for the moral decay of this country's young. Smut, smut, and more smut - that's my special area of interest. |