Zack and Miri Make a Porno
(2008)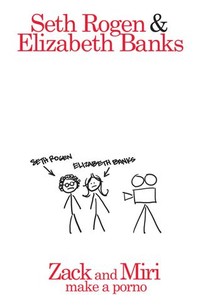 TOMATOMETER
AUDIENCE SCORE
Critic Consensus: Zack and Miri Make a Porno is a modest success for Kevin Smith, due in large part to the charm of Seth Rogen and Elizabeth Banks.
Zack and Miri Make a Porno Photos
Movie Info
Lifelong friends and roommates Zack and Miri are facing hard times and a mountain of debt. When the electricity and plumbing get cut off, they seize upon the idea of making a homegrown porno movie for some quick cash, enlisting the help of their friends. The two vow that having sex will not ruin their friendship. But, as filming begins, what started out as a business proposition between friends turns into something much more.
News & Interviews for Zack and Miri Make a Porno
Critic Reviews for Zack and Miri Make a Porno
Audience Reviews for Zack and Miri Make a Porno
½
'Zack and Miri Makes a Porno' is hilarious, but it's strongest aspect is the fact that it created pathos and honest sentiment within a narrative that felt like it'd have to be completely devoid of it.
Kase Vollebregt
Super Reviewer
Zack: That's what porn is: turning the normal into abnormal, by fucking it! "What would you do to get out of debt?" Zack and Miri Make a Porno is a surprisingly great movie. This is Kevin Smith doing what Kevin Smith does and it doesn't hurt when you team up with a guy like Seth Rogen who seems like the ideal cast member for a Kevin Smith film. It weaves the disgusting, raunchy Kevin Smith dialogue into a vulgar art form and still the movie comes across as sweet at the end. That's the genius of Kevin Smith when he goes for the love stuff. Zack and Miri have been platonic best friends their whole life and are currently living together. The bills and debts are piling up on them though and Zack's job at a coffee house isn't going to really solve it. When they run into an ex-peer at their 10th high school reunion and learn that he's gay and his boyfriend is a gay porn star; Zack has the epiphany that him and Miri should make a porno. After getting a producer, someone to shoot it, and some talent, they go to work, but the two are hiding deeper feelings for one another than they believe. I can see some of the content being a turnoff to some of the more conservative types out there, but that's to be expected with a director like Kevin Smith. If you like his brand of humor, Zack and Miri is a great little watch. It's not necessarily typical Kevin Smith though. It has a different feel to it then movies like Clerks, Chasing Amy, and Mallrats. Still even with the different feel, it's really funny and a whole lot of fun. I loved every minute of this movie. I may be a little high on praise though as I am a huge Kevin Smith fan and a huge Seth Rogen, and I'm also a huge fan of how beautiful Elizabeth Banks is. This is one that is really worth seeing even if you're sick of the raunch infested comedies that come out all the time now. This is one that is able to counter its vulgarity by evening it up with some sweet plot and character shifts. 
Melvin White
Super Reviewer
An interesting twist on the traditional rom-com. In the end, turns out to be a little more traditional than I would've liked.
Zack and Miri Make a Porno Quotes
| | |
| --- | --- |
| Zack Brown: | Ziggy? Is that even in fucking papers anymore? No, man. |
| Delaney: | Fuck you, Ziggy's a comic. It's right next to Family Circus. |
| Zack Brown: | No, I mean.. Spider-Man and shit. |
| | |
| --- | --- |
| Zack: | Miriam Linky, will you have sex with me on camera for money? |
| | |
| --- | --- |
| Zack: | give me two popsicle sticks and a rubber band and i'll find a way to fuck it, like a filthy magiver. |
| Zack: | You give me a two popsicle sticks and a rubber band and I'll find a way to fuck it like a filthy MacGyver. |
| | |
| --- | --- |
| Barry: | I-want-to-slam-my-ham-in-your-can-wo-man. Scene. |