Dead Fish
(2004)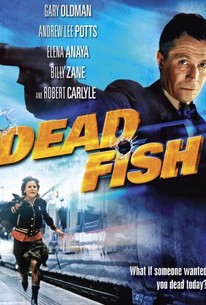 AUDIENCE SCORE
Critic Consensus: No consensus yet.
Movie Info
Gary Oldman, Terence Stamp, Robert Carlyle, and Billy Zane headline this stylish, darkly comic crime comedy centering on a disarmingly charming hit man (Oldman) on a frantic quest for love, money, and bloody revenge.
Critic Reviews for Dead Fish
Audience Reviews for Dead Fish
½
A few funny moments but not to much, a dry script with a very great cast that lacks alot actually and could of been much more. It seems alot of british crime-comedies seem to want to replicate Lock, stock and Snatch. Carlyle is the funniest in the film, Oldman is good, but its like he was held back on adding any other variety to his character. An awful waste of time that bores and fails to satisfy
This was a terrible movie. i didnt understand why Gary oldman (altough looked gorgeous) was kind of playing a simple sounding idiot. Billy Zane was the one saviour of this entire movie, i dont normally like him but he was hilarious and very entertaining so possibly worth the watch because of him.
Film Crazy
Super Reviewer
I have been fortunate enough to watch 'Dead Fish' a number of times and like any other characteristically well observed film - it becomes more & more alluring (the more and more you watch it). The clarity of the roles and personalities transform to characterise the essential quirk which formalises the fundamental and key element of this unique & eccentric English film. A storyline set around 'one day' - based on the concept of the switching of two mobile phones. A simple film in terms of storyline adaptation - nevertheless, a wholeheartedly character driven, well observed, well styled, well directed and well edited piece of spirited modern day film making. 'Dead Fish' doesn't fit into a particular genre or category - in the same way it doesn't promise to be anything other than what it is. This is a light-hearted film with creative license, therefore, if you are open minded or like the appeal of non-mainstream creativity, you will enjoy what this film has to offer. An entertaining cast retains the pace and characteristics of the film as a generous and consistent dose of subliminal hilarity throughout. Andrew Lee Potts plays an American young male working as a safe-breaker and key-cutter in London, (unassuming) his life is just about to get a whole lot worse as his mobile phone accidentally gets switched with that of a hit man, and as you can imagine leads to chaos and confusion. Needless to say Gary Oldman is the deranged hit man, Robert Carlyle an aggressive debt-collector, Terrance Stamp one of the hit man's targets, and Billy Zane plays a rather convincing goofy local informative (reminiscent of the alluring George Cole character in the St. Trinian's films). The styling & costume cohesion is distinctive, watch out for the drug-induced light bulbs in Sal's flat, Rosenheim's contemporary white establishment, the seedy strip joint known as the 'Parrot Club' and the burgundy uniform which transforms Robert Carlyle into a time warped 60's Mod with matching obsessive 'same colour' VW Camper van. There is no denying this is a tremendously well-observed character driven film. The roles formalise into snippets of vulnerability and tension as personalities are pursued. Unsuspecting rivals unite becoming embroiled in bizarre circumstances and the film circulates into a cycle of someone chasing someone else. Look for the good in this film and you will not be disappointed. The pace and fury fluctuate as scenes are rhythmically punctuated by the excellent and contemporary 'Groove Armada' soundtrack. In this day and age people often liken new creative film directors (or a new film) to cult inspirational movie makers like; Tarantino, Guy Ritchie or The Cohen brothers. 'Dead Fish' is without doubt a cult movie, watch it ten times (I dare you) and love the bones of it like I do!
Cassandra Maples
Super Reviewer
Dead Fish Quotes
There are no approved quotes yet for this movie.