Changeling
(2008)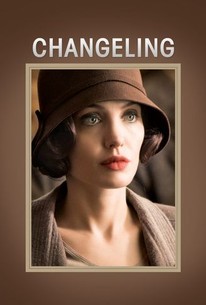 TOMATOMETER
AUDIENCE SCORE
Critic Consensus: Beautifully shot and well-acted, Changeling is a compelling story that unfortunately gives in to convention too often.
Movie Info
Inspired by actual events that occurred in 1920s-era Los Angeles, Clint Eastwood's The Changeling tells the story of a woman driven to confront a corrupted LAPD after her abducted son is retrieved and she begins to suspect that the boy returned to her is not the same boy she gave birth to. The year was 1928, and the setting a working-class suburb of Los Angeles. As Christine (Angelina Jolie) said goodbye to her son, Walter, and departed for work, she never anticipated that this was the day her life would be forever changed. Upon returning home, Christine was distressed to discover that Walter was nowhere to be found. Over the course of the following months, the desperate mother would launch a search that would ultimately prove fruitless. Yet just when it seemed that all hope was lost, a nine-year-old boy claiming to be Christine's son seemed to appear out of thin air. Overcome with emotions and uncertain how to face the authorities or the press, Christine invites the child to stay in her home despite knowing without a doubt that he is not her son. As much as Christine would like to accept the fact that her son has been returned to her, she cannot accept the injustice being pushed upon her and continues to challenge the Prohibition-era Los Angeles police force at every turn. As a result, Christine is slandered by the powers that be, and painted as an unfit mother. In this town, a woman who challenges the system is putting her life on the line, and as the situation grows desperate, the only person willing to aid her in her search is benevolent local activist Reverend Briegleb (John Malkovich).
News & Interviews for Changeling
Critic Reviews for Changeling
Audience Reviews for Changeling
Eastwood's firm direction and Angelina Jolie's powerful performance help make this a gripping film that is as tough to watch as it is definitely rewarding, and it features a fabulous production design and cinematography as well.
Carlos Magalhães
Super Reviewer
½
Enjoyable, historical drama. Not my favorite, but not bad either.
Christian C
Super Reviewer
Changeling is the true story of a young mother in 1920s America whose son goes missing, but when the wrong boy is returned to her she is persecuted by a corrupt police force trying to avoid public embarrassment. Another beautifully crafted and intelligent drama from Clint Eastwood, Changeling is quite an unbelievable story. It highlights the dreadful, uncaring hypocrisy of corrupt officials, the appalling treatment of the mentally ill of the time, not to mention those "hysterical" women who were committed to avoid embarrassment or inconvenience. The period is meticulously recreated and the plot combines the story of a woman unshakably seeking justice against enormous odds and the investigation into a harrowing serial killer case. The cast are all of course quality, apart from the fact that although she turns in in quite a creditable performance, you can never quite forget you are in the presence of Her Jolieness rather than witnessing actual events. The result is leagues ahead of the hand wringing melodrama that missing child stories usually entail and serves both as an intriguing mystery and cautionary tale about human indifference to the suffering of others.
Changeling Quotes
| | |
| --- | --- |
| Christine Collins: | Never start a fight... but always finish it |
| | |
| --- | --- |
| Capt. J.J. Jones: | Departmental policy is what I say it is. |
| | |
| --- | --- |
| Carol Dexter: | Once they get us in here, we either shut up and learn to behave or we don't go home. |
| | |
| --- | --- |
| Christine Collins: | I used to tell Walter "Never start a fight... but always finish it." I didn't start this fight... but by God, I'm gonna finish it. |