Hell Ride
(2008)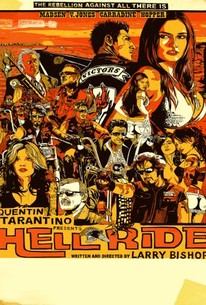 Movie Info
Veteran AIP genre star Larry Bishop (son of famed Rat Packer Joey Bishop) directs and stars in this gritty revenge tale concerning a biker gang that rallies to avenge the violent murder of a fellow gang member. An homage to such classic biker films as Chrome and Hot Leather and Angel Unchained, Hell Ride was conceived when director Bishop was invited to Quentin Tarantino's home to view a print of The Savage Seven. Upon realizing that there hadn't been a true biker film in years, the pair quickly contacted Bob Weinstein and conspired to produce a lean and mean two-wheeled revenge flick that would more than make up for lost time.
Critic Reviews for Hell Ride
Audience Reviews for Hell Ride
[img]http://images.rottentomatoes.com/images/user/icons/icon13.gif[/img]
Directors Cat
Super Reviewer
I originally saw Hell Ride when it first was released, and despite a good enough cast (aside from Eric Balfour, who is the worst actor here) the talent is waste on-screen. The film has nothing going for it; the plot is paper thin, a total mess and is poorly constructed. Hell Ride tries too hard to be Easy Rider, but fails. The film fails all together. Fails as competent piece of cinema and as an action/biker film. Director Larry Bishop provides us with little substance. Hell Ride had potential, but Larry Bishop doesn't know to effectively build a clever story for this film. The film is sloppy, unimpressive and it doesn't have any redeeming qualities. Hell Ride could have been a great film. I mean the cast here is pretty impressive you have such acting legends as Dennis Hopper and David Carradine. Unfortunately their talent is wasted on such a poor film. Hell Ride is a poorly crafted film that fails to really entertain. The story is sloppy and the cast are wasted. Above all, director Larry Bishop doesn't know where to take the story, thus it fails at being an effective, thrilling and entertaining film. This film could have been something very good, instead because of the scripts limitations, the film ends up being very bad, and the cast is wasted. There's really nothing interesting in Hell Ride, and it is actually one of the worst films that I have seen. The film tries too hard at being a clone of Easy Rider, and it fails. I hated this film.
I didn't think "Hell Ride" was all that terrible, but it completely failed to capture the spirit of Grindhouse cinema and in the end wasn't all that fun (despite trying real hard to be). Larry Bishop's direction is kind of flat and inept, but it's his performance as one of the most uninspired, bargain-basement bad-asses ever that really underwhelms. At about 80 minutes, the film is harmless entertainment, Albeit the most forgettable kind. On a more positive note, it's always nice seeing Michael Madsen and Vinnie Jones.
Hell Ride Quotes
There are no approved quotes yet for this movie.