The Cottage
(2008)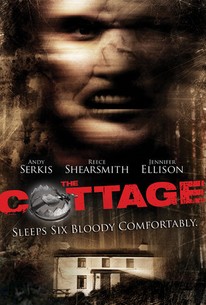 Movie Info
A criminal scheme gone wrong is just the start of a string of life-threatening bad luck in this darkly comic thriller. David (Andy Serkis) and Peter (Reece Shearsmith) are a pair of second-rate criminals who are eager to make a big score and think they've come up with the formula for a perfect crime. David works for a wealthy local businessman named Arnie who dotes on his teenaged stepdaughter Tracey (Jennifer Ellison), and so with the help of Arnie's slacker son Andrew (Steven O'Donnell), he and Peter kidnap the girl and demand a hefty ransom for her safe return. But Tracey puts up far more of a fight than David and Peter ever expected, and when Andrew picks up the ransom only to discover they've been given a decoy instead of cash, the would-be kidnappers have no clue what to do next. But this problem seems like small potatoes when the owner of the seemingly abandoned cottage where they're holed up unexpectedly returns -- he turns out to be a hideously deformed lunatic with a murderous temper and a bitter hatred of trespassers.
News & Interviews for The Cottage
Critic Reviews for The Cottage
Audience Reviews for The Cottage
½
Brit comedy horror and damn funny. Well worth a watch, turn your brain off and just enjoy yourself.
Stuart Brooks
Super Reviewer
Funny yet scary horror movie. I like it.
Dead Angel
Super Reviewer
First things first. Reece Shearsmith's character in The Cottage was one of the most annoying characters I've ever encountered in a movie. All his spineless cringing, screaming, and his general uselessness, made me want to climb somehow into the movie and kill him. Yes, I know the character was intentionally written that way, and in no manner is this a criticism of the movie. I'd actually like to commend the director, writer(s), and Reece himself, for creating such a thoroughly annoying character. Now, on to the review. I liked the first half of The Cottage more than the second. The initial half was fairly humorous, and gave off an enjoyably creepy vibe. I was eagerly anticipating the arrival of some vague threat, while gleefully cheering for Ellison's rather intimidating prisoner. Serkis was also in fine form, as his character struggled to salvage some kind of plan amidst the overwhelming incompetence of his cohorts. The second half of the movie is basically a decidedly average slasher-film. Not awful, but nothing special. I found myself missing the humor of the first 40 minutes. Depending on your preference for that genre, you may end up liking The Cottage more than I did. It only came to my attention because of the presence of Jennifer Ellison, but I'm glad that I ended up seeing it.
The Cottage Quotes
There are no approved quotes yet for this movie.