Stone
(1974)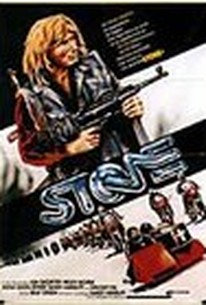 AUDIENCE SCORE
Critic Consensus: No consensus yet.
Movie Info
An undercover cop named Stone (Ken Shorter) infiltrates an outlaw biker gang called the Grave Diggers, only to discover that he has more in common with the two-wheeled warriors than he previously though after a professional assassin attempts to set them up for a big fall. A prominent environmental activist has just been assassinated, and the police suspect that the Grave Diggers are withholding crucial information relating to the killing. Realizing that the Grave Diggers will never speak to regular policemen, the cops recruit Stone to ride with the gang and find out what they know. Accepted into the fold after saving the life of a grateful Grave Digger, Stone begins to respect the Undertaker (Sandy Harbutt) and his crew due to the fact that they operate by their own unique code of ethics. Later, as the Grave Diggers prepare to strike back against a rival motorcycle club, Stone suspects a set-up and attempts to convince them not to fall for it. Unfortunately for everyone involved, Stone was correct. When the violence finally erupts, no one is safe from the bloodshed that threatens to destroy the Grave Diggers, and consume Stone in the process. ~ Jason Buchanan, Rovi
Critic Reviews for Stone
All Critics (1) | Fresh (1) | Rotten (0)
Sandy Harbutt is the film's creator and its soul and has become a central icon in the film's legacy as it continues to touch its primary target audience - motorcycle lovers and fellow travellers, who reject mainstream society, who do not salute authority
April 18, 2008
Audience Reviews for Stone
Easy Rider is considered the greatest biker film ever made and it is definitely a classic. However if you're looking for the ultimate biker movie, Stone is definitely the one to watch. Brilliantly acted and directed, this movie gave audiences a true taste of the biker underworld. This is a raw, gritty masterwork of Exploitation cinema at its best. This is a taut, exciting and thrilling movie that is a definite must see for any film fan looking for a true biker movie. This is a well acted movie of which the filmmakers, I hear asked real Hells Angels to act in their movie to give that authentic feel, and you really get that vibe throughout while watching the film. Director Sandy Harbutt direction is terrific and he crafts a solid, well paced and exciting picture that is a must see for fans who are looking for a raw and in your face 1970's action picture. The film looks dated, nonetheless it is a classic of Australian cinema, and many have claimed that it was the precursor to other Aussie actioner such as Mad Max and Midnight Spares. This is an engaging movie that remains more thrilling than several movies of today. I've seen plenty of low budget Exploitation action movies and I have to say that Stone is an accomplished movie that remains an iconic movie in the genre. This is a film that also boasts some brilliantly directed scenes including the Biker funeral scene and the start of movie, which is very impressive. This is not a film that is recognized for its acting, but rather for its sheers raw energy that tears across the screen. Truly a film that redefined Aussie cinema and one that helped broaden the genre into new territory.
Stone Quotes
There are no approved quotes yet for this movie.