Men with Guns
(1998)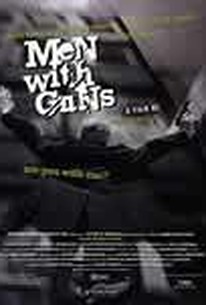 AUDIENCE SCORE
Critic Consensus: No consensus yet.
Movie Info
Three losers, Eddie, Lucas and Mamet, are sent to collect some debt at a remote farm. But the thugs there are too hard for them, and they are humiliated. They return for revenge, it gets out of hand, ends with a bloodbath and they are left with a big amount of cocaine. The drugs belong to local mob boss Horace Burke, who sends his son to find them. Cops are also after them.
Critic Reviews for Men with Guns
There are no critic reviews yet for Men with Guns. Keep checking Rotten Tomatoes for updates!
Audience Reviews for Men with Guns
½
When Eddie(Donal Logue, of "Terriers") and Richie(Gregory Sporleder) try to collect a debt at a strip club, they are re-routed to a farm where they are brutally assaulted. Seeking revenge, they are joined by Mamet(Callum Keith Rennie) in buying guns from Easy Gary(Max Perlich). Before they go, they get high which might explain their accidentally killing more people than they originally planned on. On the plus side, it looks like they hit the jackpot. Directed by Kari Skogland, "Men with Guns" is a prime example of style triumphing over substance in desperately thriving for an offbeat rhtythm in its depiction of underworld denizens while being overboard with the sometimes literally flowery dialogue. The intriguing cast which also includes Paul Sorvino is both a plus and a minus. It is a shame because there are some good thoughts here on success and what it takes to achieve it that go beyond just simple ambition and luck but maybe depends on how we treat each other.
½
To put it in simplest terms, "Men With Guns" is a technical atrocity. The editing is uneven, the cinematography is hazy and unclear, and it's just poorly directed to boot. Given Skogland's past filmography, Men With Guns is surprisingly amateurish. There are a couple scenes of good dialogue, but the movie fails at anything beyond that. It's just far too messy and unorganized.
Stephen Earnest
Super Reviewer
½
Kari Skogland's Men With Guns is a technical atrocity. It's surprisingly amateurish. Not only is it poorly directed, but poorly photographed and poorly edited. There a few scenes of good dialogue, but the movie fails beyond that. I wanted to like it, but it's just too messy. The reason for my watching this film was Donal Logue. Problem is, he's not terrifically good here. I liked Callum Keith Rennie though. I feel like he's a good character.
Stephen Earnest
Super Reviewer
Men with Guns Quotes
There are no approved quotes yet for this movie.