Botched
(2008)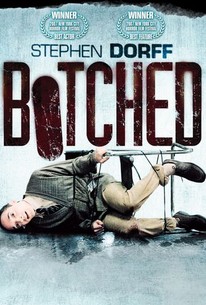 Movie Info
A professional thief finds his luck going from bad to worse when he's sent to Russia to steal a priceless antique crucifix and becomes the terrified target of a serial killer who takes the title of "headhunter" all too seriously. Career larcenist Ritchie Donovan (Stephen Dorff)'s latest job has just ended in tragedy, and he still owes a fortune to a fearsome Russian godfather. Fortunately for Ritchie, the crime kingpin is feeling especially benevolent today, and offers the luckless cat burglar one last chance to settle his debt. All Ritchie has to do is travel to Moscow, ascent a skyscraper penthouse, crack the safe, and steal an antique crucifix. It couldn't have been a simpler plan, but when the robbery ends in murder and police surround the building, Ritchie and the gang are forced to take hostages. Just as it begins to appear as if all hope is lost, the elevator that Ritchie and his fellow gangsters are traveling on comes to a complete stop on the building's unused thirteenth floor. But landing on the thirteenth floor of this building may not have been the lucky break it first appeared, because lying in wait on the hidden level is a serial killer with a knack for collecting heads. He makes no secret of his hobby either, because his gruesome trophies line these seldom-wandered halls like a nightmarish testament to the ultimate gamesman. With the cops closing in from below, psychotic Russian gangsters on all sides, panicked hostages freaking out, and a homicidal maniac somewhere too close for comfort, all Ritchie cares about now if getting his feet back on the ground before he loses his head.
Critic Reviews for Botched
Audience Reviews for Botched
Does this really get better after the first 40 minutes? Please tell me, because I'd really like to give this a chance, but I'll need some convincing.
vieras esine
Super Reviewer
Stuart Brooks
Super Reviewer
[img]http://images.rottentomatoes.com/images/user/icons/icon13.gif[/img] There's a handful of laughs to be had with Botched but the obvious problem is that too many of them are hit and miss gags. There's plenty of well made gore but it's ultimate downfall is simply down to the fact that it's neither scary nor funny enough. I think it comes up to short in far to many places, it has a good story but as with most low budget horror's and horror comedies it never lives up to it's very intriguing premise. That's what made Shaun of The Dead and Attack The Block so great, they were both hilariously funny and nail bitingly scary at the same time. But there's an unfortunate sense of dullness with Botched that it tries to hard to be scary and think's it's a lot funnier than it is. It's very aware that it's been made fo a small amount of money but that can't be used as an excuse as to why the film isn't as good as it should be. The cast simply do the best with the material they're given but even they have a very awkward and off mark sense of comedic timing. It boasts no exciting set pieces or witty dialogue, and redeems itself only by some adequate acting and eye popping gore effects. It has bloodbath creativity i'll give it that much, but it's very self indulgent and think's it's a groundbreaking horror comedy, but it really isn't. It's just as unexciting and juvenille as it's title. Mediocre at best, even if like me your a fan of really cheap horror movies.
Directors Cat
Super Reviewer
Botched Quotes
| | |
| --- | --- |
| Khokhlakov Yuri: | If the Almighty can't kill himself, is He really almighty? |
| | |
| --- | --- |
| Sony: | The Almighty is in charge. |
| | |
| --- | --- |
| Bogdanovich Boris: | In trained hands, a filing cabinet can be more effective than a tank. |
| | |
| --- | --- |
| Dmitry Ivanov: | Was it just me, or did anyone else see the head? |