The Take
(2007)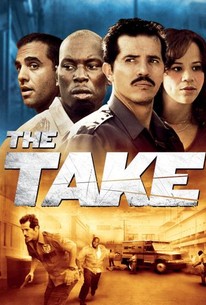 Movie Info
Felix De La Pena is an armored car driver struggling to make ends meet for his wife Marina and two kids in East LA's Boyle Heights neighborhood. But, their lives are thrown into chaos after Felix miraculously survives a violent on-the-job hijacking led by Adell Baldwin, a merciless criminal driven by power and greed. Now facing a difficult recovery and struggling with a nasty new temper, Felix becomes obsessed with tracking down his attackers before they frame him for the crimes they committed.
News & Interviews for The Take
Critic Reviews for The Take
Audience Reviews for The Take
½
When I first read the premise for this film, I thought I was looking at some kinda caper flick where a bunch of working class stiffs band together to get one over on their corporate employers. I got one part right: the film is about a violent hijacking, but the film focuses more on the tragic aftermath. People are murdered in cold blood, and those who walk away with their lives are damaged physically and psychically. I admire John Leguizamo for not just doing comedy, but for taking on more emotionally devastating roles. He and Rosie Perez brought a realness to their characters. It was like sitting in on a family destroyed by a random act of violence. I can't really critique Tyrese's performance, because his character felt so one-dimensional. All he brought to the table was the quintessential villain with no redeeming qualities. You don't really feel anything for him, and I don't know if that was the intent of the film or if Gibson needs to work on his depth. Either way: kudos to Leguizamo. Great performance.
Remi Logan
Super Reviewer
½
Im not a fan of John Leguizamo so I didnt expect to like The Take at all but it turned out to be a pretty good movie
Brody Manson
Super Reviewer
½
Decent acting, and okay story apart for the inter-gangster-fighting subplot. This movie succeeds, however, because of the stylized direction that gives it a grittily emotional and realistic feel.
The Take Quotes
There are no approved quotes yet for this movie.