Fanaa
(2006)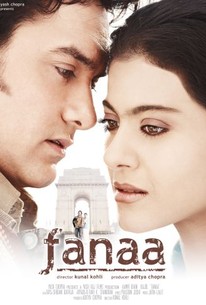 Movie Info
Choices... to choose between right or wrong is simple, but what defines one's life is the decision between the greater of two goods or the lesser of two evils. This is the advice that Zooni Ali Beg receives from her father just as she is about to venture out into the world on her own for the very first time. Little does she know that these very words will shape her life. Zooni, a blind Kashmiri girl, meets Rehan Qadri, a local tour guide and an incorrigible flirt, who goes from city to city exploring their architecture and the women. Her friends warn her against this good-for-nothing roadside Romeo, but she chooses to ignore them. She is not one to be protected. It is now her time to discover life, and love. Is this really the right choice? Rehan is fascinated by Zooni. He truly wants her to see life as it should be seen, in its many colors -- and as he promises her, the time spent with him will be the most precious in all her life. Zooni sees Delhi, life and love like she never has before, because of Rehan. What Zooni doesn't know is that Rehan has another side of his life that he has kept from her - something that cannot only change her life, but can also destroy it.
Audience Reviews for Fanaa
"May my breath find shelter in your heart... / may me life be destroyed in your love." - Zooni Z. Baig

Fanaa is a complex movie. Aamir Khan has continued his trend of working on unusual plots and delivering extraordinary performances and Kajol has outshone Aamir Khan on many occasions in the movie. The emotional intensity of the movie gets to the core of the viewer's heart. It may help people to look at the Kashmir issue from a different angle but it does certainly portray one fact, and that is a seemingly ruthless terrorist can actually be a simple and kind man fighting for his land's freedom. For him, making judgement on greater good or lesser evil is a constant struggle. Even though Rehan Qadri (Aamir Khan) did not derail from his cause (terorrism apparently) till the last breath in his body, he will draw sympathy from the viewers. The splendor of light, sound and colors in big budget Hindi movies is achieving new heights every day. Viewers will be simply spellbound to the screen during most of the song sequences. The music of the movie was like a breath of fresh air. The viewers will also enjoy a ride of convincing and innovative action sequences. The first half of the movie could have been made better though. Sometimes the pace felt a little off. The constant exchange of poetry did feel irritating at times. Overall the movie is certainly worth watching and, compared to most of the Hindi movies, quite a unique one.
Steven Vincent Gee
Super Reviewer
½
A great movie. Fascinating love story with intriguing story plots. Aamir Khan, Kajol, and Tabu are all remarkable in this movie. Great music.
Fanaa Quotes
There are no approved quotes yet for this movie.