Love and Other Disasters
(2006)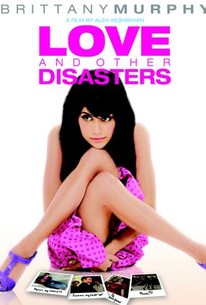 Love and Other Disasters Photos
Movie Info
A hyperactive and high-fashion American transplant living in London and working for Vogue magazine does her best to enhance the lives of those around her while remaining blissfully unaware of the man who longs to profess his true love to her in an ultra-modern romantic comedy produced by Luc Besson and David Fincher and directed by Alek Keshishian. Emily Jackson (Brittany Murphy) lives a charmed life. Always on the go in her Mini Cooper and able to talk until the sun comes up and then some, her fast-paced lifestyle belies a sensitive soul who takes great joy in playing matchmaker for her many friends. It's Emily's gay roommate and constant companion, Peter (Matthew Rhys), who usually becomes the subject of the quirky Cupid's frequent pairings, and when handsome new photographer's assistant Paolo (Santiago Cabrera) arrives at the Vogue offices, Emily makes it her mission to bring the two men together. Unfortunately for the contemporary Holly Golightly, Emily is so busy arranging a love connection between Peter and Paolo that she remains completely blind to the obvious torch carried for her by the one suitor who longs to provide her the with the loving companionship that she so cheerfully arranges for others.
Critic Reviews for Love and Other Disasters
Audience Reviews for Love and Other Disasters
½
Couldn't get this film a positive spin. It was very boring for me to watch...
Leigh Ryan
Super Reviewer
I liked this movie more than I ever would have expected, due in part because I really did not know what to expect. Essentially, it is a typical rom-com, but it tries so hard to be something more; and by-and-large it succeeds. I loved the echos of Breakfast and Tiffany's, and there were an awful lot of them. Jacks has more than a few things in common with Holly Golightly and "Tiffany's" is her favorite film to bout. There are a lot of people out there bashing Murphey's performance, and while she wasn't mindblowing, I was rather impressed. Besides, who really cares if she can walk in her stilettos? Plus, it seems a wee bit disrespectful to bash her now that she is dead. I liked Matthew Rhys in The Edge of Love, and he is even when actually playing a likable character. The dialog is snappy and clever, not really realistic, but damn funny! All around, Love and Other Disasters is lighthearted and fun, even the mandatory "serious" moments sparkle with levity. Is it shallow? Yes. It is obvious? Yes. Predictable? Yes. Is is enjoyable? Absolutely!
think you've got to be in the right mindset for this one but if you're prepared to suspend your disbelief you can have a great time. If you like Ugly Betty then this is for you. But if you go in expecting War & Peace you're going to be disappointed. The clothes are great and there are some great performances from the likes of Dawn French and Catherine Tate. There are plenty of laughs and some brilliantly observed portraits of London types. Brittany Murphy is a luminous presence and although you get the message that she wants to channel Audrey Hepburn she sort of pulls it off. It's a step up from Love, Actually and Notting Hill and a lot more fun. Could the prominence of a gay story line be what seems to annoy some of the other reviewers here?
Cassandra Maples
Super Reviewer
Love and Other Disasters Quotes
There are no approved quotes yet for this movie.