The Wolfman
(2010)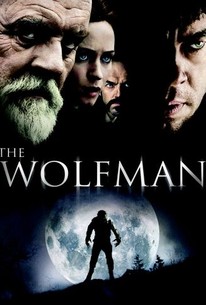 TOMATOMETER
AUDIENCE SCORE
Critic Consensus: Suitably grand and special effects-laden, The Wolfman suffers from a suspense-deficient script and a surprising lack of genuine chills.
Movie Info
A practical man returns to his homeland, is attacked by a creature of folklore, and infected with a horrific disease his disciplined mind tells him can not possibly exist.
News & Interviews for The Wolfman
Critic Reviews for The Wolfman
Audience Reviews for The Wolfman
½
As a remake 'The Wolfman' is as digitized as they get; offering what is supposed to be a dark insight into a land where the line between humanity and animosity is blurred and a savage werewolf brutally terrorizes Victorian Great Britain. 'The Wolfman' suffers with the self-made juxtaposition between what it strives to be and what it actually is. The few moments of thematic darkness are in vain when placed alongside the somewhat comedic, over the top violence and ungrounded tension. The films biggest problem however, is its overproduced mise-en-scene, its hard to suspend your disbelief when you're looking at something mediated within an inch of its life. A film attempting to deal with the raw, untameable nature of becoming a werewolf shouldn't take place in a land of carefully placed "moody" shadow and glistening, overly clean Victorian attire, it should be an unstable journey into the mind of a man who is more beast then human. Despite its flaws with tone and stylistic uncertainty 'The Wolfman' does have its upsides: an interesting soundtrack and some rare moments of eerie beauty... If only it knew what to do with them.
Cameron Sherwell
Super Reviewer
½
The remake of the classic horror tale of a werewolf curse does start out quite promising. Without wasting much time, the beast attacks and our protagonist returns home to investigate in his brother's gruesome death. The atmosphere and setting during those early scenes are working quite well, the rural 19th century Britain is filmed rather nicely and the small villages and old manors look great. Sadly, once the curse takes hold of the protagonist, the film is getting more and more lazy. The transformation CGI is alright, but not mind-blowing and even the Oscar awarded make-up effects could have been better. The film does not take the easy path of giving us an evil and a noble werewolf, at the same time it makes it kind of difficult to care for a main character who shreds innocents to pieces. The rather predictable ending is the only possibly solution but still leaves you unsatisfied after a rather mediocre showdown. And what's even worse, it doesn't even address the possibility of the curse surviving the final confrontation. Genre fans could check it out, without expecting too much. Overall, the film is rather forgettable, even if partially well done.
½
Please note that this review is in regards to the theatrical version. I plan on watching the director's cut, and, depending on how that goes, may readjust my review and rating. I has expecting a good amount from this movie. Unfortuantely, it left me unsatisfied. It's not terrible, but it's not really a whole lot more than average. I don't think that Joe Johnston is a hack, but I question if he was the right choice. I'm all for a director expanding their range, but I question if a more accomplished director (in general and with horror films specifically), would have been the way to go (depending of course, on the screenplay). As it stands, it can be hard to successfully blend the violence and gore expected by modern viewers with a traditional gothic setting and atmosphere. It can be done, but it doesn't happen here. I liked some of the gore, but some of it seemed a bit unnecessary. Same goes for the effects. I liked that some of it was done practically, but it would have been excellent to see all of it done practically, or with even less CG. I appreciated that they wisely decided to retain the Victorian era setting instead of doing something stupid like setting it in contemporary times. Considering that two Oscar winners appear in this, you'd think the acting would have been better. It's not. It doesn't suck, but a lot is left ot be desired. Hugo Weaving has some awesome mutton chops though, and, even though Emily Blunt is pretty, the quick glimpse of side boob from her seemed pointless. I like the general concept and story, but the specific plot and story for this film needed work. It's a shame considering Andrew Kevin Walker was involved in the writing. I expect a lot better from him. The big twist was revealed way too early, seemed telegrahed anyway, and wasn't handled very well. .I did like the music though, and the camera work was also quite nice, as was the art direction. That's probably where this film excells the most. Too bad the story and other stuff can't be at the sae level. There was one of the scenes at the asylum though, that was pretty damn decent, and it's probably the best sequence in the film (the latter sequence at the asylum, that is). I liked parts of the gypsy camp attack, but not all of it. This is not quite as terrible as people have made it out to be, but it's sadly pretty average, which sucks even more because this had the potential to be excellent. I am glad it was R though, even if some of the gore was a but much. *update* I have now seen the unrated version. It is only a tad but better, but not enough so to give the film an extra half-star. It is longer, and the additional scenes are actually not extended gore, but scenes that give more depth and development to characters, as well as toying with plot developments. While these additions aren't bad, as they do flesh out characters, they mess with the pacing. Upon second viewing, I realized that the film is a little more boring than I first thought. The additional scenes just bog stuff down. Maybe had they been included to begin with, have the script and pacing be better overall, and make all of the effects be non CG, then this film could have been a quite passable B-Movie. Still though, it's not bad, just mediocre.
Chris Weber
Super Reviewer
The Wolfman Quotes
| | |
| --- | --- |
| Constable Nye: | One day we found him, he was torn appart and half eaten, whatever did it was big, fast, and bugshot couldn't kill him.. The men went home, to carze silver bullets, wouldn't leave the house on a full moon, from thrn on... |
| Constable Nye: | One day we found him, he was torn appart and half eaten, whatever did it was big, fast, and bugshot couldn't kill him.. The men went home, to carze silver bullets, wouldn't leave the house on a full moon, from throne on... |
| Constable Nye: | One day we found him, he was torn appart and half eaten, whatever did it was big, fast, and bugshot couldn't kill him.. The men went home, to carze silver bullets, wouldn't leave the house on a full moon, from now on... |
| Butcher: | Ha! He thought it was werewolf! (everyone laughs) |
| Butcher: | Ha! He thought it was werewolf! [everyone laughs] |
| | |
| --- | --- |
| Lawrence Talbot: | (Glenn shots and kills him, happening to end the curse) thank, you.. |
| Lawrence Talbot: | [Glenn shots and kills him, happening to end the curse] Thank you.. |
| | |
| --- | --- |
| Lawrence Talbot: | (sees his silver bullets) you hunt monsters? |
| Lawrence Talbot: | [sees his silver bullets] you hunt monsters? |