Cloudy With a Chance of Meatballs
(2009)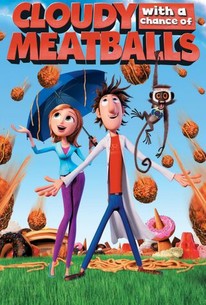 TOMATOMETER
AUDIENCE SCORE
Critic Consensus: Quirky humor, plucky characters and solid slapstick make this family comedy a frenetically tasty time at the movies.
Cloudy With a Chance of Meatballs Videos
Cloudy With a Chance of Meatballs Photos
Movie Info
Inspired by Ron and Judi Barrett's beloved children's book of the same name, Cloudy with a Chance of Meatballs follows inventor Flint Lockwood (voice of Bill Hader) and a brainy weathergirl (voice of Anna Faris) as they attempt to discover why the rain in their small town has stopped, and food is falling in its place. Meanwhile, lifelong bully Brent (voice of Andy Samberg) relishes in tormenting Flint like he did when they were kids, and Mayor Shelbourne (voice of Bruce Campbell) schemes to use Flint's latest invention -- a device designed to improve everyone's lives -- for his own personal gain. ~ Jason Buchanan, Rovi
Critic Reviews for Cloudy With a Chance of Meatballs
Audience Reviews for Cloudy With a Chance of Meatballs
½
Cloudy with a Chance of Meatballs is one of those films which comes along once in a while and assault your senses while leaving a big smile on your face. Itï¿ 1/2(TM)s a fast-paced film which keeps you constantly entertained with a barrage of verbal and visual jokes, so that even in its most incredible moments you find yourself going with it. By taking a tried-and-tested story of a son seeking his fatherï¿ 1/2(TM)s pride, the film manages to be more than just trash for kids with ADHD, making for a brilliantly insane hour-and-a-half. Even without the (unnecessary) 3D, the film is visually impressive with a strange and surreal sensibility. Unlike PIXAR films, in which the animation tries to make even the weirdest animals look human, this is content to give its characters bulging eyes and impossible bodies. The colour schemes are bold and psychedelic, ranging from the purple clouds to the slightly orange skin. This is a film which knows its audience ï¿ 1/2" i.e. young children ï¿ 1/2" and hence doesnï¿ 1/2(TM)t feel the need to offer up any jokes or references which are designed solely to keep the adults awake. Letï¿ 1/2(TM)s face it, if you fail asleep in this film, youï¿ 1/2(TM)re just not trying. That said, this is a very cine-literate piece of work. In the past few years a wave of self-aware, postmodern childrenï¿ 1/2(TM)s films have included jokes about or references to adult films. Think of the opening of Shrek 2, which sends up both Spiderman (the upside-down kiss) and The Fellowship of the Ring (the ring falling end over end onto the finger). In Cloudy with a Chance of Meatballs, such references are ï¿ 1/2~lamp-shadedï¿ 1/2(TM): they are hidden by the action already going on, so that the film never feels like itï¿ 1/2(TM)s grinding to a halt just so the directors can make a point. Among the films it references are: Return of the Jedi (the ship flying away as the machine explodes); Indiana Jones and the Temple of Doom (the monkey ripping out the gummy bearï¿ 1/2(TM)s heart); and ï¿ 1/2" believe it or not ï¿ 1/2" The Shawshank Redemption (a man standing in the rain with his hands aloft). However, if there is one film that Cloudy is most in the shadow of, it is David Lynchï¿ 1/2(TM)s Eraserhead. Itï¿ 1/2(TM)s not just to do with the walking chickens which threaten to devour our heroes. The whole film has an eerie edge to it, that sense of constant, other-worldly unease that Lynch has been a master of throughout his career. The Mayor of Swallow Falls, as voiced by Bruce Campbell, grows creepier over the course of the film, to the point at which you almost feel like youï¿ 1/2(TM)re watching Blue Velvet. Like the townï¿ 1/2(TM)s diet of sardines, itï¿ 1/2(TM)s a film which is not always easy to swallow, with a series of strange and creepy scenes which break up the laughter and put a twisted look on your face. Fortunately, this Lynchian streak never manages to compromise the film. What does put a slight downer on it is the final scene, which is clichï¿ 1/2 1/2d and sentimental. We know how this goes by now: the evil thing is destroyed, everyone thinks the hero is dead, but then he reappears and wins the girl. Having been so impressed by this filmï¿ 1/2(TM)s departures from convention, you feel like youï¿ 1/2(TM)ve been slightly cheated with such a predictable ending. On the other hand, if Flint Lockwood had failed and/ or died, it would have been an odd, punch-in-the-face kind of ending ï¿ 1/2" not Lynch per se, but certainly enough to push the film into the PG category. The film has a great vocal cast, featuring many lesser-known actors who are all highly watchable. As mentioned before, the highlight is Bruce Campbell, whose characterï¿ 1/2(TM)s internal appetite for power is matched on screen by his external appetite for Lockwoodï¿ 1/2(TM)s food. Bill Hader and Anna Faris are very believable in the leads roles; you might almost forgive the latter for making The House Bunny. Elsewhere James Caan is very strong as Lockwoodï¿ 1/2(TM)s technophobic dad, and Mr. T is great fun as Officer Earl. Whether you laugh at his verbal tics, or at him bouncing around the screen, heï¿ 1/2(TM)s immensely enjoyable. So many of this yearï¿ 1/2(TM)s animated films, like Up and Avatar, have been so overhyped and showered with praise that they can only be underwhelming upon release. Cloudy with a Chance of Meatballs is the opposite, namely a film whose premise suggests little, but which on viewing is immensely rewarding. With its inspired blend of lunacy and surrealism, it delivers near-constant laughs and raised eyebrows in equal measure. It isnï¿ 1/2(TM)t the best animated film of the year, since it doesnï¿ 1/2(TM)t have quite as much charm or beauty as Henry Selickï¿ 1/2(TM)s Coraline. But it is a definite must-see, whether youï¿ 1/2(TM)re a child or not.
Daniel Mumby
Super Reviewer
A young, oddball inventor solves his ocean city's sardine surfeit by masterminding a machine that precipitates any kind of food, only to fall victim to arrogance, greed, and gluttony. Chockful of groanworthy food puns, sweet familial understanding, and well-intentioned lessons about being yourself and following your dreams.
Alice Shen
Super Reviewer
Met the expectation I had from it. Quite uninteresting, that is. Actual Rating: -5/5
familiar stranger
Super Reviewer
Cloudy With a Chance of Meatballs Quotes
| | |
| --- | --- |
| Flint Lockwood: | When it rains, you put on a coat. Of SPRAY-ON SHOES! |
| | |
| --- | --- |
| Fran Lockwood: | Oh oh and peanut butter right?! |
| Sam Sparks: | No way! I'm severely allergic to peanuts.. |
| Fran Lockwood: | Hey, me too... |
| Sam Sparks: | So what's it called? |
| Fran Lockwood: | Peanut allergies |