Lakeview Terrace
(2008)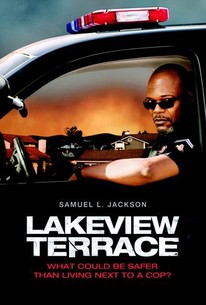 TOMATOMETER
AUDIENCE SCORE
Critic Consensus: This thriller about a menacing cop wreaking havoc on his neighbors is tense enough but threatens absurdity when it enters into excessive potboiler territory.
Movie Info
An interracial couple moves into their California dream home, only to find themselves the target of their volatile next-door neighbor -- a racist LAPD officer -- in this tightly wound thriller starring Samuel L. Jackson and Kerry Washington. Newlyweds Chris and Lisa seem like they have the perfect marriage and now, with their new home in the exclusive community Lakeview Terrace, the perfect life as well, but things soon turn ugly in the posh neighborhood when they begin to receive threats from their neighbor Abel, a middle-aged LAPD officer who has obvious objections to the couple's interracial marriage. What starts as an attitude problem soon morphs into full-on harassment, and before long the couple finds that their worries go far beyond their property values -- or the encroaching California wildfire burning in view of their community -- as they begin to fear for their lives.
News & Interviews for Lakeview Terrace
Critic Reviews for Lakeview Terrace
Audience Reviews for Lakeview Terrace
½
'Lakeview Terrace' is a worthwhile but flawed thriller about racial politics played out in an idyllic multi-cultural LA bedroom community. It's like a chamber version of Paul Haggis' Crash, with a more focused, smaller scale story. I rented it due to my admiration for director Neil LaBute's dark writing skills both on stage and screen. Though he did not write this one, it did reflect his questioning and often perverse take on human relationships. Interracial couple Kerry Washington and Patrick Wilson move into to a mixed and apparently tension free subdivision, their nearest neighbor is a widowed LA patrol cop and his two teens. That cop, Abel Turner (Samuel L. Jackson), anchors the film in a typically galvanic and menacing performance. He does not approve of the races mixing (for hidden reasons of his own, I won't go to spoiler alert) and surreptitiously does everything he can to terrorize them and undermine their relationship. Jackson will literally do anything, regardless of morality to mess up the lives of this couple. Wilson and Washington play more complex and less 'goody two shoes' characters than you would expect in more cliched film. Their marriage is presented as having cracks before they arrived in the neighborhood, caused by a combination of character differences and the corrosive effects of society's lack of acceptance of their marriage. Neither actor plays sweet ingenue roles, which is to the film's credit. Yet, because of the above point, I didn't care whether this couple stayed together or broke up and that is an almost fatal flaw. Hence, we have much less to root for in the course of the film and as a result, the first hour of set up is much more interesting than the last hour of denouement, where the film breaks down in gratuitous action and mayhem scenes, particularly in the gun blazing climax. Jackson's a mesmerizing presence and plays a very dark and unusual character. Still, I was never convinced or understood his reverse racism, even though it's explained with a lame plot detail at the end concerning his late wife. Look for a nice turn by Regina Nehy as Jackson's intelligent and questioning teen daughter, she does very lovely work here. In some ways LT works better than its sister movie 'Crash' since it has less ambition and more narrowly focused. However, after hour one it bogs down in unconvincing plot points and gratuitous complications involving crazy and unbelievable scheming on the part of Abel. The film is workmanlike in its technical aspects and is very well paced. It's worth a rental on a rainy or snowy night.
Josh Morris
Super Reviewer
A very well made and well paced thriller that has Samuel L. Jackson giving his all as the racial next door neighbour. The tension that builds up throughout the film goes to the extreme and back, giving you a sense of fear. There are many foreshadows to enjoy and great moments of backstory that really makes you feel for the characters before you reach the intense conclusion. "Lakeview Terrace" has everything you could ask for from a thriller, and more. I feel that this is a very underrated film for many reasons. It's great entertainment!
½
Really well acted flick, everyone is really good in their roles and makes the film very believeable and worth while. Jackson is very good as a racist cop and pretty eerie too, you never know quite what he's gonna do. The whole look and feel of the film is good too, the hot summer, sweaty atmosphere, tension between the neighbours etc.... I did expect alittle more action on the racist front hehe or some really heated verbal maybe but it didn't quite materialise, still good though, not over done and with a good ending. You know this kind of thing happens all over the place and all the time which makes it very interesting and easy to relate too which in turn makes the film very powerful.
Phil Hubbs
Super Reviewer
Lakeview Terrace Quotes
There are no approved quotes yet for this movie.