Before the Rains
(2008)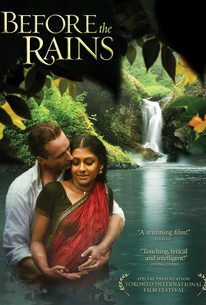 Movie Info
Set in 1930s southern India against the backdrop of a growing nationalist movement, "Before the Rains" is the English language debut of acclaimed Indian director Santosh Sivan. An idealistic young Indian man finds himself torn between his ambitions for the future and his loyalty to the past when people in his village learn of an affair between his British boss and a village woman.
Critic Reviews for Before the Rains
Audience Reviews for Before the Rains
Things do not end well for a love affair between two different races and casts set in India as colonial rule is ending. The Indian scenery is worth the watch.
In "Before the Rains," it is 1937 in Kerala, India where Henry Moores(Linus Roache) is a planter who is building a road to help his business, risking everything to finish it before the monsoons start. On the personal side, even though he is married, he is carrying on an affair with Sajani(Nandita Das), the family maid, who is trapped in an abusive marriage. One day, the lovers are noticed in a sacred grove by a pair of boys. If "Before the Rains" sounds as predictable and obvious as every other doomed romance you have ever heard of, you would be at least partially right.(What was it Anton Chekhov said about guns, again?) What separates this movie from others of its ilk is the lack of sympathy given to its lead English character who has no true regard for India which is also undergoing spasms of independence. That along with lush cinematography combine to provide a sincere feel for a time and place.
Great movie. Good story plot. Here is a movie by Santosh Sivan. This is a movie that captivates you, and it holds such a great interest that you are left feeling intrigued. Great cast- Nandita Das, Linus Roache, and Rahul Bose. Amazing music. Definitely worth seeing.
Before the Rains Quotes
There are no approved quotes yet for this movie.