OSS 117: Le Caire Nid d'Espions (OSS 117: Cairo, Nest of Spies)
(2008)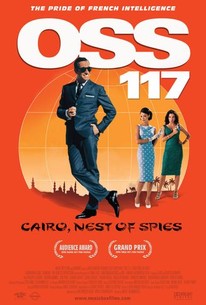 TOMATOMETER
AUDIENCE SCORE
Critic Consensus: This clever spy spoof plays politics and movie conventions for laughs and features a great turn by Jen Dujardin as a smarmy-suave nouveau-Bond.
OSS 117: Le Caire Nid d'Espions (OSS 117: Cairo, Nest of Spies) Photos
Movie Info
OSS 117: Cairo -- Nest of Spies constitutes the eighth installment in a long-running series of movies about OSS 117 (the government code name for Hubert Bonisseur de la Bath) -- a French super-spy and European equivalent of James Bond. The creation of author Jean Bruce, OSS eventually starred in over 265 novels and seven cinematizations through 1970. The first seven film outings were sober and straight-faced; the eighth go-round (the first after a 38-year lapse) does a 180 to shamelessly poke fun of the rules established by the genre. A glib yet intelligent spoof, it joins the ranks of Our Man Flint (1965), Aghaye Hallou (1970), Mad Mission 3: Our Man from Bond Street (1984), and other international pictures that glibly satirize the subgenre made infamous to Americans by Bond; like Mad Mission 3, it even packs in an OSS 117 (Jean Dujardin) with a startling resemblance to Sean Connery. The film's comic conceit involves making OSS 117 arrogant, conceited, culturally insensitive, chauvinistic, and thoroughly moronic (he pretends that various cultural institutions and religious practices, for instance, are nonexistent if he is unfamiliar with them); yet the character somehow manages to slide through outrageously dangerous situations unscathed, time and again. The teaser prologue finds OSS 117 in Berlin, where he outwits the Nazis by stealing vital documents from them, hijacks an Axis plane in mid-nosedive, and saves himself and the craft at the last yawning moment. Ten years later, he journeys from Rome to Cairo, where he investigates the death of a fellow agent, posing as the proprietor of a chicken farm. His "side" activities during this jaunt involve hammering out a peace arrangement for the Middle East, keeping tabs on the Suez Canal, and monitoring the Russians. Jean-François Halin scripted the film, maintaining an utterly deadpan tone throughout; Michel Hazanavicius directed.
News & Interviews for OSS 117: Le Caire Nid d'Espions (OSS 117: Cairo, Nest of Spies)
Critic Reviews for OSS 117: Le Caire Nid d'Espions (OSS 117: Cairo, Nest of Spies)
Audience Reviews for OSS 117: Le Caire Nid d'Espions (OSS 117: Cairo, Nest of Spies)
½
A clever, witty spoof of spy movies that smartly plays with the conventions of the genre and recreates with perfection the looks of movies in the late '50s, especially the special effects - and Dujardin is hilarious as the stupid, condescending French spy of the title.
Carlos Magalhães
Super Reviewer
½
OSS 117 is a near perfect comedy film that parodies the spy genre very well. Actor Jean Dujardin is great in the title role, and he is very funny in his part. Unlike many other spy film parodies, this film is genuinely funny and is a near flawless film altogether. The film succeeds due to great directing and acting. The plot is great as well, and the jokes are well written, and are actually smart, and work well enough to make this a memorable comedy film. Unlike films like Johnny English which fail to deliver memorable laughs and a good story, OSS 117 relies on a good script peppered with smart gags that are definitely not stupid, like so many other spy spoofs. This is a great comedy with a wonderful cast. Brilliantly directed by Michel Hazanavicius, this is a fun film from start to finish. Dujardin gives the film its charm, and he's perfect for the part. I very much enjoyed the film, and it's far better than films like Get Smart, and even Austin Powers. This is a well written film with a great cast that are just great to watch on-screen. This is one of the best comedies that I've seen and is a must see for comedy fans who want an effective spy film parody that actually makes you laugh. OSS 117 is a wonderful film that has all the ingredients of an effective comedy. This is a brilliant film that is very different than most comedies. If you enjoy a great comedy film with plenty of laughs, then 0SS117 is the film for you. A brilliant film that is aided by a great cast, this is one of the finest French comedies ever made.
The first of the new OSS 117 films, this was the first ever collaboration between Michel Hazanivicius, his wife Berenice Bejo, and the impressive star, studly Jean Dujardin. Though I did like the second of these films better, there is such an amazing style, energy and creative blend to this film. The scenery, the look of this film is pointedly OSS original, taking something from the old spy series from the sixties and also being something new and beautiful. The lead character is sexist, egotistical, and stupid (not ignorant. That's forgivable.) While most parody spy films have the bumbling lead given understanding, OSS is shot at, kidnapped, and shown no mercy, even in the face of his romantic lead, portrayed by the gorgeous Berenice Bejo. I loved the myriad of plot, the humor, the music, the picturesque views that are oh so clean and bright. It looks and feels like the Brits' James Bond films while having the suave texture and feel of the French cinema, and the humor of a Steve Martin film from the seventies, almost fitting with the time period of this film. In short, the plot wavers between interesting and insanely confusing, if only because I do not have the attention span to look between Jean Dujardin being the goofy lead and the villain putting on a sneer while delivering his seminal evil genius speech. Really, it's again Dujardin who steals the show from the wiley temptresses and the melodramatic Nazis. It's his toothy grin and duplicitous insults that make this film into a very lewd comedy, though he does spar with Bejo a number of times, and seems reverent of his co-stars with maturity and childlike wonder. I look forward to more collaborations between Hazanavicius and Dujardin, as they have now made at least three films together, all of which I have found light and captivating. Hopefully Dujardin will have a sprawling career as the comedic relief, stupid and charming all at once.
Spencer S.
Super Reviewer
OSS 117: Le Caire Nid d'Espions (OSS 117: Cairo, Nest of Spies) Quotes
There are no approved quotes yet for this movie.