Legacy
(2014)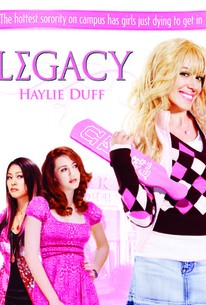 AUDIENCE SCORE
Critic Consensus: No consensus yet.
Movie Info
Popularity kills in this dark comedy centering on the murder of a geeky college freshman who was rushing the most popular sorority on campus. Lana Stevens (Haylie Duff) is president of Omega Kappa. Omega Kappa is the kind of sorority that most college freshman would kill to get in to. Unfortunately when a geeky rushee named Katie is found murdered during the biggest party of the year, it appears that Lana and her friends are willing to kill to keep it exclusive as well. Now the hottest girls on campus are the prime suspects in the murder case that has the whole student body talking. Are these mean girls really so protective of their popularity that they would resort to murder? As the investigation gets underway, an unhinged detective (Tom Green) determines to answer that question and ensure that justice is served.
Critic Reviews for Legacy
Audience Reviews for Legacy
Aka Pretty little devils in the UK. Saw it on the horror channel who knows why? It's more Mean girls meets Clueless! More of a comedy than a horror but not a good one! It has a few cute girls to look at and not much else. Watch Mean Girls instead!
Really crappy cheap DTV affair, but humorous and somewhat entertaining. The acting is atrocious, but it's to be expected given the nature of the project. The ineptness on all fronts adds to the experioence of watching this, and makes it somewhat worthwhile. Only watch it if, like me, you were completely bored and had absolutely nothing else tyo do/had no motivation or desire to do anything else.
Chris Weber
Super Reviewer
This movie is terrible. The story could have been decent (think Weekend at Bernies meets Mean Girls) but it never takes off. Instead you are given over an hour of Haylie Duff doing her best to act, in a cheap synthetic wig and a wardrobe bested by Sears. The rest of the actors are not that great either, in fact forgettable, the wig is the star. The dialog is cheap and rides the current 'netspeak' craze, "Totes!", for example. You spend 99.8% of the movie in a pink house and like with the storyline, you are stuck there. From impromptu jello wrestling to hand jobs, you are given nothing more than a collage of 'national lampoon ultra lite', cliché, offerings. Obviously made on a shoestring budget, it's like a Direct to DVD student movie, slathered in pink. Obviously this movie is a bit of a fantasy, which is fine. This movie could have been funnier. There were moments that made us laugh, but then those moments just fizzled out.
Steven Vincent Gee
Super Reviewer
Legacy Quotes
There are no approved quotes yet for this movie.