Paris
(2008)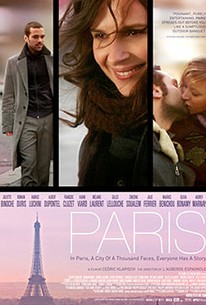 Movie Info
Love and life pose dilemmas for a handful of friends in the City of Lights in this romantic drama from French filmmaker Cedric Klapisch. Pierre (Romain Duris) has enjoyed a successful career as a dancer performing in Parisian nightclubs, but when he's diagnosed with a serious heart condition, his doctor warns him that the strain of his work could kill him. Pierre must reinvent his life, and as he ponders his future and his mortality, he turns to his sister, Élise (Juliette Binoche), a social worker and single mother, for help. Élise is facing some life changes of her own; she's tired of being alone, and has developed an infatuation with Jean (Albert Dupontel), a grocer who sells his wares in the city's open-air market. But Jean is recently divorced and is still preoccupied with his former wife, Caroline (Julie Ferrier). Pierre also finds himself falling from afar for a lovely college student named Laetitia (Melanie Laurent), but he has a rival for her affections in Roland (Fabrice Luchini), one of her professors, who is considerably older than her. ~ Mark Deming, Rovi
News & Interviews for Paris
Audience Reviews for Paris
Generally, I judge films like Paris against the "Altman Standard." If the film comes close to linking the characters in the clever and interesting ways that Altman accomplished in Short Cuts, then it works for me. And Paris attempts to reach for the Altman Standard, despite the fact that the title would lead one to believe that it is attempting an homage to the city in the vein of or New York, I Love You. Here we have a brother and sister dealing with the former's life-threatening illness, a gang of fruit-mongers seeking sex/love, and a professor obsessing over a student. But thrown in haphazardly and failing to connect to the other stories in substantive ways are a racist baker and a group of African would-be immigrants. It is with these stories, tangentially related but ultimately unnecessary, that the film fails to reach the Altman Standard. Additionally, I detected a degree of misogyny in the film's portrayal of women. Most of the men go through complex existential crises, but with the exception of Elise, played by the always charming and lovely Juliette Binoche, and possibly Caroline, the women in this film are either flakes or sluts. Overall, Paris is a good film, but it falls short in a couple key areas.
Jim Hunter
Super Reviewer
Liked the beautiful shots of Paris more than the actual story. It was okay, but it really wore out it's welcome at over 2 hours. Good cast and made up of quite a few characters whose lives overlap. Some of the characters more interesting than others. Fans of French films will like this, but I wouldn't recommend it to appeal to all.
Nicki Marie
Super Reviewer
Charming, chic and quintessentially Parisian. Juliette Binoche, Romain Duris and supporting Melanie Laurent make the charming performances in this full-drama, emotional and inspiring ode to Paris because I know them well in their latest foreign-language arthouse films. Director-writer Cédric Klapisch has done something marvelous here, a film full of ideas and humanity, yet one that somehow enables us to engage with and care for so many complex characters without ever having to resort to stereotypes. It's a great achievement ? and a glorious movie about that city to which we must all return in our dreams: Paris.
Dean McKenna
Super Reviewer
Paris Quotes
There are no approved quotes yet for this movie.