The Secret (Si j'étais toi)
(2007)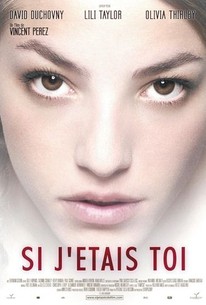 AUDIENCE SCORE
Critic Consensus: No consensus yet.
Movie Info
In the spirit of Ghost and Birth, Hannah and Benjamin are a happily married couple whose love is tested in ways they never could have imagined in this touching supernatural drama.
News & Interviews for The Secret (Si j'étais toi)
Critic Reviews for The Secret (Si j'étais toi)
All Critics (1) | Fresh (1) | Rotten (0)
David Duchovny, something of a specialist in roles involving the paranormal and supernatural, delivers a well judged characterisation of Benjamin, father and husband faced with the inconvenient truth of his daughter's body inhabited by his dead wife's per
Audience Reviews for The Secret (Si j'étais toi)
½
Despite its talented cast, who really are wasted here, this film comes across more like a Lifetime movie rather than a theatrical release. Basically the story is how a mother and daughter connect through "supernatural" means. They're in a car crash and Hannah dies after Sam starts flat-lining, or something. Before Hannah dies, however, her soul is sort of transferred into Sam's body. Now Hannah has to go through life stuck in her daughter's body and she gets to live vicariously through Sam and do the things she never got to do when she was younger. This, of course, puts a strain on Ben and Hannah's marriage, because they can't exactly carry on as if nothing happened. So it's a fine idea, but the execution is certainly lacking. The problem is that this is a movie meant to show that the connection between a mother and a daughter is, as cheesy as this fucking sounds, stronger than life and death. Yet, other than the fact that Hannah got to read Sam's diary, there's never that sense that Hannah got to really know her daughter better than she did before. If anything, the movie's much more about Hannah getting to live the life she always wanted to, but couldn't. And I'm not sure that's the type of story you want to tell with this movie. It just dilutes the original point the film is trying to make by inserting in some subplot that really isn't even necessary. I understand this subplot might give the film a little "diversity" but, again, it sort of dilutes the point the film ends up making. And the thing with Hannah and Ben still having this relationship, even though Hannah's spirit has inhabited her daughter's body, had a lot of potential to explore the complications it poses on their marriage, but they miss the boat on that too. It basically becomes Ben fathering Hannah. I just think the movie was a little afraid to go the extra mile and really make their relationship awkward. There should've been teases here and there, just to put the audience on their feet. It would've been awkward but that should've been the intention, and it would've been a little more interesting than what we got here. It was a movie that was afraid to take chances really, and it chose to go the safe route. The last act of the movie is certainly sentimental and it really tries to make you see how these two people grew closer to each other. But it just really doesn't work. There's this moment where Hannah, in Sam's body, tells Sam, through a videotape, that Sam made her want to be a better person. And at any moment in the film do you see this for it to have any real emotional resonance. What about Sam made her want to be a better person? There's nothing that she can point to, and that's the problem. You're not given a reason to believe Hannah's words and because of that, a lot of the movie ends up feeling pointless. There's no reason to care for any of these characters they're one-dimensional and uninteresting. The movie has a decent cast but its look and execution definitely scream TV movie to me.
Jesse Ortega
Super Reviewer
Redeemed only by an amazing performance from Olivia Thirlby when possessed by her mother, The Secret is dismally similar to far too many films, including family dramas like Freaky Friday. Were Olivia and David Ducovny not such great performers, The Secret would probably become down-right unbearable.
Christopher Haskell
Super Reviewer
Duchovny's wife and daughter are critically injured in a car wreck and his dead wife returns in his daughter's body...or is it her? Or is it really his daughter? Or is it both? Who knows? Who cares? A waste of time for anybody other than either David's fans or people who have seen EVERY OTHER MOVIE EVER MADE!!! But as bad as Duchovny's acting always is, he seems to actually try with this piece of shit he's given. Remember...he agreed to it
Derek Daniels
Super Reviewer
The Secret (Si j'étais toi) Quotes
There are no approved quotes yet for this movie.