The Perfect Game
(2010)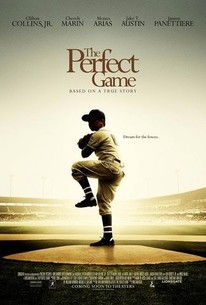 TOMATOMETER
AUDIENCE SCORE
Critic Consensus: It's bogged down with an unfocused script and countless sports movie cliches, but The Perfect Game still manages to charm with its unabashed sweetness and a stirring final act.
Movie Info
Living amidst the gritty poverty of 1957 Monterrey, Mexico, a rag-tag group of boys from the other side of the tracks discovers the joy of sandlot baseball under the guidance of Cesar, an aspiring major league coach thwarted by discrimination. Armed with the dream of playing a real Little League game, the young team members defy a total lack of resources, disapproving parents, and widespread prejudice to score their first Little League victory on U.S. soil and find themselves at the beginning of a once-in-a-lifetime journey. Relying on their religious faith, a warm-hearted priest and their love of the game, the nine players and their coach embark on an incredible, record-breaking winning streak that leads them across the border to southern Texas, and all the way to the 1957 Little League World Series in Williamsport, Penn., where a miracle will cement their place in history and change their lives forever. Based on the true story of the 1957 Monterrey Industrials Little League team, "The Perfect Game" is an inspiring and heartwarming tale of faith and a testament to the resilience of the human spirit in the face of overwhelming odds.
News & Interviews for The Perfect Game
Critic Reviews for The Perfect Game
Audience Reviews for The Perfect Game
½
The Perfect Game is harmless and good hearted but it feels too cliche and unmemorable to be an effective sports film.
Bradley Wright
Super Reviewer
I had read before that Mexico had won the Little League World Series in 1957 and 1958. What I hadn't read, was anything about this team. I had no idea what they had to go through just to make it happen. This could easily be considered the greatest baseball story of all time. They not only overcame the fact that they had never played organized ball before. They had to overcome financial issues, discrimination and not having a coach for a while. This team had some kids with real talent, and I think they won because they wanted it more. I thought the acting in this movie was a little forced, but it was not terrible. Cheech Marin does a good job playing the priest. It has some more famous child actors as well as Marin, including Jake T. Austin who plays Max on Wizards Of Waverly Place and Moises Arias who played Rico on Hannah Montana. I think all the kids do a pretty good job. The movie is supposed to have a relaxed, light-hearted and family friendly feel and it does. However, it does not have this in a cheesy way. It takes on racism, and shows how the Mexican team overcame racism not only for themselves, but for a black player from another team in a restaurant. It shows the impact that they left on the people who saw them play. A local Texas reporter who hates baseball eventually develops into a person who loves this team and wants to cover them at Williamsport. I like the part where they get advice from the groundskeeper, who turns out to be legendary Negro League player Cool Papa Bell. There were a lot of elements included in this movie that really make you think, that hold your attention and capture your imagination. I rented this from a Redbox and watched it twice before taking it back. This movie also made me want to learn more about the real life team and I found a lot of good articles. I would recommend this movie for any serious baseball fan, and for any family that is looking for a good film to watch together. It crosses that audience spectrum in the same way that The Sandlot, Angels In The Outfield, Little Big League and Rookie Of The Year do. This story/movie has become one of my favorites ever. Highly recommended. Don't expect an Oscar winner in production quality, but it's a great watch nonetheless. 2-10-14
Bruce Bruce
Super Reviewer
½
A wonderful story, presented in a very hoaky, melodramatic way. A decent effort, but even I (who likes touching stories) found myself rolling my eyes in more than one scene. Another funny aspect to this movie: the kids from Mexico all talk English amongst themselves. However, when there is a scene with someone who only speaks English, they only verbalize in Spanish. That was very different.
Cynthia S.
Super Reviewer