I Love You Beth Cooper
(2009)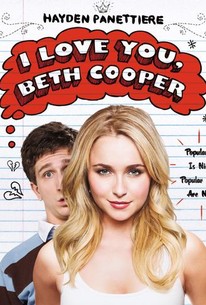 TOMATOMETER
AUDIENCE SCORE
Critic Consensus: Heavily reliant on stereotypes and shallow teen comedy clichés, I Love You Beth Cooper is a humorless affair that fails to capture the charm of its source novel.
I Love You Beth Cooper Photos
Movie Info
When a geeky high-school valedictorian throws caution to the wind by expressing his love for a popular cheerleader during his graduation speech, life finally starts to get interesting in this coming-of-age comedy adapted from the book by journalist/author/screenwriter Larry Doyle. Denis Cooverman (Paul Rust) may have brains to spare; it's guts that he lacks -- or at least, he did until today. Stepping up to the podium to deliver an inspirational speech to his graduating class, Denis decides that the time has finally come to call out his classmates on their peccadilloes and declare his love for the prettiest girl in school -- Beth Cooper (Hayden Panettiere). Much to Denis' surprise, Beth responds by accepting an invitation to a party at his house later that day. But Beth's meathead boyfriend, Kevin (Shawn Roberts), is none-too-pleased that his high school prize is mingling with the biggest dweeb in school, and when Kevin shows up at his house and tears the place apart in a fit of rage, Denis, his best friend Rich (Jack Carpenter), Beth, and her friends Cammy (Lauren London) and Treece (Lauren Storm) all pile into Beth's car and flee for their lives. For four long years Denis sat silently behind Beth in class, pining for a way to make his love known. Now, over the course of one long night, Denis will finally get to know the girl of his dreams better than he ever thought possible. If he manages to survive until morning, it's sure to be the story of a lifetime.
News & Interviews for I Love You Beth Cooper
Critic Reviews for I Love You Beth Cooper
Audience Reviews for I Love You Beth Cooper
½
Not the trainwreck it's been advertised as but still nowhere near the term of "passable," I Love You, Beth Cooper feels like a forgotten relic from a time capsule of 1980s teen movies. It just feels so powerfully dated and yet incompetent when it comes to maintaining a consistent comedic tone or building interesting characters. During the valedictorian's (Paul Rust) graduation speech, he loses his filter, lets people know his real thoughts, and Beth Cooper (Hayden Panettiere) gets the titular declaration. Thanks to director Christopher Columbus, the movie wallows in shallow stereotypes; geek goes after head cheerleader. The comedy is ramped-up slapstick that approaches cartoon ridiculousness, including Beth's ex-boyfriend who assaults and destroys everything in sight without anyone ever calling the police. There are some ham-handed life lessons doled out between the PG-13 randiness. The casting also dooms the flick. Panettiere isn't a strong actress, and Rust is an actor best described as "highly punch-able." I was irritated by his every movement and word, and I felt compelled to keep punching him in the face. I'm not a violent person at all but thus was my level of annoyance. There are some fun stretches but nothing that ever sticks or resonates. I Love You, Beth Cooper is not worth adulation or scorn, just indifference. Nate's Grade: C
Nate Zoebl
Super Reviewer
I Love You Beth Cooper is a terrible, unfunny, cliche, creepy, and boring comedy and is so bad that I could barely watch.
Jim Careter
Super Reviewer
½
Studios who care more about money and less about substance and artistic distinction certainly had their tentacles in when this movie was getting greenlighted. I feel like I've written this foul review a billion times: lacks chemistry between the leads, the jokes aren't funny in any context, the characters are cheesy, the premise is being recycled and the fact that this film exists at all isn't in any way necessary. If you have a bad script, it's circumventable with a stellar cast, but this film is headed by walking hot mess Paul Rust, who is somehow too nerdy and too awkward to pull this off. Panettiere just isn't what the role calls for, and it easily shows. Sure, she knows how to be cutesy as a cheerleader (much like her role on Heroes) but here the lead should be dangerous and shockingly rebellious. With her small stature and Disney ties no one is going to believe the petite blonde is anything but a conservative teenage stereotype. Besides the fact that the premise is built on Rust confessing a deep love for Beth Cooper, there is little originality, not even in the confession. The entire film is a deep exhale, not letting us take anything away from this snooze fest. Rewatch the Breakfast Club instead.
Spencer S.
Super Reviewer
I Love You Beth Cooper Quotes