Dark Floors
(2008)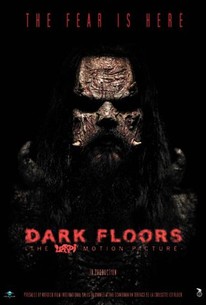 AUDIENCE SCORE
Critic Consensus: No consensus yet.
Movie Info
When the concerned father of an autistic young girl decides to forcefully remove his daughter from the hospital where she is currently being treated, his mission is unexpectedly complicated by a horde of murderous creatures that seem to have found their way into our reality from some frightening parallel universe. It was supposed to be so simple: the father would locate his daughter and spring her from the hospital before the staff even knew what was happening. After getting trapped in the elevator on their way out, however, events take a horrifically grim turn as the doors open to reveal that the once sterile and bustling surroundings are now ominously silent and dank. With mutilated bodies strewn about and murderous gang of monsters stalking them through an endless maze of corroded hallways, the only remaining hope for the frightened father and daughter now lies in the affected mind of a little girl who may understand more about the situation than anyone realizes.
Critic Reviews for Dark Floors
Audience Reviews for Dark Floors
Now this is what I call a horror film. Part of the Ghost House Underground Collection and its over the top/ The make up is what one wants when watching horror. Near the end one scene puts Jeepers Creepers to shame. A father has is daughter in the hospital for test, the test go bad and he wants her out of that hospital, they get on the elevator to leave and so begins a journey into somewhere, but where. Full of evil and everything from ghost, ghouls and zombies. Want to have a fright party, don't want those little campers falling a sleep, this is the movie to watch. 5 stars
Bruce Bruce
Super Reviewer
½
I'm sorry, I just can't take the Lordi monsters seriously. They're just all too silly. And if I can't help but giggle at the very sight of them, I really can't be creeped out by this film, now can I? Yes, there were a handful of clever ideas but on the whole it just wasn't very good.
vieras esine
Super Reviewer
½
Eurovision Song Contest winners Lordi take part in their own film. It really could have been done without them, they just take on the roles of some ghosts and demons. It's typical stuck in a twisty, turny place hokum. Unexplained stuff happens, some of which is later explained, some that isn't. The jumps and set pieces were pretty decent, and it didn't come off as some kind of vanity project. In fact, Lordi's costumes made for creatures outside of your usual horror film. Shot with confidence and skill Dark Floors wont impress everybody, or anybody for that matter. But it will appease some of the genre fans.
Luke Baldock
Super Reviewer
Dark Floors Quotes
There are no approved quotes yet for this movie.