Dorian Gray
(2009)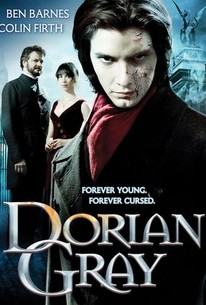 TOMATOMETER
AUDIENCE SCORE
Critic Consensus: Despite a lavish and polished production, Dorian Gray is tame and uninspired with a lifeless performance by Ben Barnes in the title role.
Movie Info
Dorian Gray is very handsome -- and very cursed. Young Dorian arrives fresh on the London social scene and is taken under the wing of Lord Henry Wotton who introduces him to the seedy pleasures of London life. When Dorian sees how incredible he looks in a newly painted picture of himself, he swears to do whatever it takes to look as young and handsome in real life as he does in the picture -- forever. His stunning good looks and charm soon attract the celebrity lifestyle and everything that it brings. Dorian finds himself slipping deeper and deeper into a world of sin, sex and celebrity, seemingly without any consequences. But as his actions become increasingly evil, for how long can he hide the secret behind his eternal youth?
Critic Reviews for Dorian Gray
Audience Reviews for Dorian Gray
A decent gothic tale, but could have done with a bit more action, or following the story as he travels the world over the years. Colin Firth steals the show here though, but overall could have been much better considering the run time.
A British aesthete realizes that a painting of him manifests all the physical evidence of anything he does. I'm trying not to be the snobby literature teacher whom everybody hated in high school or that literature survey class you were forced to take Freshman year, but the distortions that Oscar Wilde's masterpiece was subjected to in this film are almost too much to bear. Avoiding that persona, I'm forced to say that Lord Henry doesn't work as a character if he is bland and evil the way Colin Firth plays him here. The timeline of the film is vastly extended compared to the book, and Sybil's influence is reduced. These latter changes aren't particularly damning, but turning Henry into a leering villain is. Rather than Wilde's tale being about an extreme expression of the aesthete, Dorian Gray suggests that murder and illicit sex are logical extensions of the aesthete's philosophy. Because Wilde considered himself an aesthete, I doubt that he would approve. So it's clear that the film differs from the book, but these differences don't necessarily mean it's a bad film. No, the stolid performances and unevenness of the story make it a bad film. Overall, read the book or -- though I haven't seen it -- the older version, The Picture of Dorian Gray, can't be worse.
Jim Hunter
Super Reviewer
½
This film is visually appealing. Colin Firth is a powerhouse in this film along with actors Ben Chaplin, and Rebecca Hall. The special effects visuals and the dressing of sets and costumes are all fantastic. This all said, the film is as if director Oliver Parker read Oscar Wilde's novel and then watched a 24/7 rerun of Stanley Kubrick's Eyes Wide Shut, and then watched the abysmal end of The League of Extraordinary Gentlemen for the film's climax. The story of Dorian Gray and his mysterious painting is one of the best tales put to paper, and at first, the first act is set up rather well and the character development is rather nice. But by the time things begin to progress, that is where the story kind of fell apart, the script became rushed and the performance levels of the main star (Ben Barnes) and other supporting actors like Rachel Hurd-Wood diminished, seeminlgly abandoned for a film that looked good as opposed to telling a great story; and even this is only short lived because of the choppy editing of the center of the film. Not horrible, kept my attention, was definitely entertaining and engaging, but the parts that it lacked really could have been avoided if more effort and time were paid to them, and we would have really wound up with a masterwork, but alas, we do not.
Matthew Roe
Super Reviewer
Dorian Gray Quotes
| | |
| --- | --- |
| Dorian Gray: | Some things are more precious because they don't last. |
| | |
| --- | --- |
| Lord Henry Wooton: | Experience makes us strong. |
| | |
| --- | --- |
| Lord Henry Wooton: | Life is a moment, there's no hereafter. |
| | |
| --- | --- |
| Lord Henry Wooton: | I suggest we raise a little hell. |