Angel
(2007)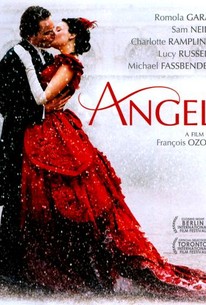 Movie Info
A destitute but determined young woman living in turn-of-the-century England ascends the social ranks after authoring a series of successful romantic novels in French writer/director François Ozon's first English-language feature. Romola Garai takes on the title role in a French and Belgian co-production co-starring Sam Neill, Charlotte Rampling, and Michael Fassbender and financed by Fidélité Films, Canal+, Celluliod Dreams, France 2, and Pan-Européenne. ~ Jason Buchanan, Rovi
Audience Reviews for Angel
½
The background outdoor scenery was a joke. I seriously couldn't get passed that. Oh, and the sappiness of it all, too. I turned this off after an hour...
Cynthia S.
Super Reviewer
it gets two stars purely for sam neill who looks gorgeous as ever!! but this movie isnt for me!! the leading lady cant act for shit and gives the character such arragance and irritates me to the point that makes the movie so unbearable its truly annoyingly terrible!!!
Film Crazy
Super Reviewer
½
[font=Century Gothic]"Angel" starts in Edwardian England where young Angel(Romola Garai), daughter of a grocer(Jacqueline Tong), dreams of living in Paradise House, a grand mansion, not that far away physically but eternities away socially. The thing is she wants to be there as mistress, not as a servant like her Aunt Lottie(Janine Duvitski). So, while avoiding school, Angel daydreams, writes them down and sends them to publishers in London. Miraculously, one(Sam Neill) accepts the manuscript and the book becomes a best seller. Angel's success puts her in the company of the top rungs of society that include Lord Norley(Christopher Benjamin) and his two grown children, Esme(Michael Fassbender), a painter, and Nora(Lucy Russell), an aspiring poet and huge fan.[/font] [font=Century Gothic][/font] [font=Century Gothic]Written and directed by Francois Ozon, "Angel" is a deceptively beguiling film. On the surface, the movie may seem like just another old fashioned rags to riches tale(so old fashioned, that rear projection is used on more on than one occasion) but Ozon subverts this by ironically placing a self-involved heroine at the center of the story whose vapid romances stand in direct contrast to Esme's dark and realistic paintings which do not sell. And instead of becoming a better person with her success, Angel becomes even more driven to write down her dreams which she falls deeper and deeper into.[/font]
Angel Quotes
There are no approved quotes yet for this movie.