Green Zone
(2010)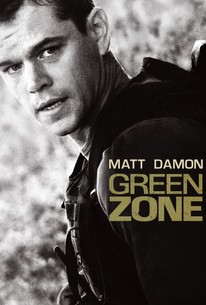 TOMATOMETER
AUDIENCE SCORE
Critic Consensus: Matt Damon and Paul Greengrass return to the propulsive action and visceral editing of the Bourne films -- but a cliched script and stock characters keep those methods from being as effective this time around.
Movie Info
United 93 director Paul Greengrass explores the aftermath of the Iraq invasion in this feature adaptation of author Rajiv Chandrasekaran's literary exposé Imperial Life in the Emerald City: Inside Iraq's Green Zone. A onetime Baghdad bureau chief of the Washington Post, Chandrasekaran was present as American forces attempted to set up a provisional government on the grounds surrounding former Iraqi dictator Saddam Hussein's opulent palace. The resulting governing body, according to critics, existed in a bubble so far-removed from the grim realities of the Iraq War that it failed to properly assess the needs of the people. In this fictional thriller set during the U.S.-led occupation of Baghdad, director Greengrass and screenwriter Brian Helgeland use Chandrasekaran's journalistic account as the foundation for the story of an officer who joins forces with a senior CIA officer to unearth evidence of weapons of mass destruction in Iraq.Chief Warrant Officer Roy Miller (Matt Damon) is certain that Hussein has been stockpiling WMDs in the Iraqi desert, but in their race from one empty site to the next, they soon stumble across evidence of an elaborate cover up. As a result, Miller realizes that operatives on both sides of the conflict are attempting to spin the story in their favor. Now, as Miller searches for answers made ever more elusive by covert and faulty intelligence, the truth becomes the most valuable weapon of all. Will those answers prove pivotal in clearing a rogue regime, or escalate the war in a region that grows increasingly unstable with each passing day? Amy Ryan co-stars as the New York Times foreign correspondent who travels to Iraq investigating the U.S. government's allegations about weapons of mass destruction, with Greg Kinnear appearing in the role of an additional CIA officer, and Antoni Corone essaying the role of a colonel. Brendan Gleeson rounds out the main cast for this Universal Pictures production. ~ Jason Buchanan, Rovi
News & Interviews for Green Zone
Critic Reviews for Green Zone
Audience Reviews for Green Zone
½
Paul Greengrass uses politics to mask what is ultimately a very generic Matt Damon vehicle.
Sam Barnett
Super Reviewer
Paul Greengrass has made some terrific films in his career as a director. When he collaborates with Matt Damon, he always manages to create something entertaining and worth seeing. Green Zone is a highly entertaining action thriller set during the Iraq War. This is a well acted film that has a very good plot that makes this a very entertaining film from start to finish. The film focuses on an Army officer who hunts for Weapons of Mass Destruction, and comes out empty handed due to faulty intelligence reports. This is a tense film that is yet another strong directorial outing for Greengrass, who always knows how to create something memorable with his movies. Green Zone is a fine movie that has a strong cast that deliver some terrific performances. If you're looking for affine thriller, then give this one a shot, it definitely is an engaging picture that will grab your attention. Matt Damon is terrific in the role of Roy Miller, the army officer hunting for the WMD's. Paul Greengrass is a terrific filmmaker and he always picks some terrific ideas for movies. This is yet another well crafted film from a great director, and this is a must see for action fans. This is a tense ride from start to finish and it overcomes its flaws by delivering a well layered plot with great acting and tense, thrilling scenes that will keep you hooked till the final frame. Whenever Paul Greengrass and Matt Damon get together they make something special, and the result is displayed clearly in this well executed action thriller. I found that this film was a bit underrated and it deserves to be seen by film fans everywhere, and it ranks among the directors best works.
An explosive and strickly tense edge of your seat thriller. A sharp, crisp and well-crafted film that stands with some of Director, Paul Greengreass`s most impressive work. Director, Paul Greengrass and Star, Matt Damon do it again and deliver the goods. Matt Damon is terrific. Also packs some solid performanaces from Jason Isaacs. Amy Ryan, Greg Kinnear and Brendan Gleeson. A pulse-pounding and razor-edged action-packed thrill-ride from start to finish. An intensely dramatic and political look as well as the harsh dreaded realism of the atmosphere. It`s a gritty, thrilling and riveting movie. It stands on par with the Bourne films in style but is its own beast.
Green Zone Quotes
| | |
| --- | --- |
| Al Rawi: | your government wanted to hear the lie, Mr. Miller.. they wanted Saddam out and they did exactly what they had to do.. this is why you are here.. |
| Al Rawi: | Your government wanted to hear the lie Mr. Miller... they wanted Saddam out and they did exactly what they had to do... this is why you are here... |
| Al Rawi: | Your government wanted to hear the lie Mr. Miller... they wanted Saddam out and they did exactly what they had to do... this is why you are here... |
| | |
| --- | --- |
| Roy Miller: | Of course it matters! Reasons we go to war always matter! |
| | |
| --- | --- |
| Roy Miller: | You want to sit around dig holes all day, or get something done? |
| Roy Miller: | You want to sit around digging holes all day, or get something done? |
| | |
| --- | --- |
| Martin Brown: | You cannot just hand this country over to an exile no one's ever heard of, and a bunch of interns from Washington. |