Easy Virtue
(2009)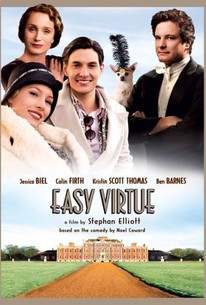 Movie Info
A young Englishman gets married to an American divorcee on the spur of the moment in the South of France and then must return home to face his family.
Critic Reviews for Easy Virtue
Audience Reviews for Easy Virtue
½
The combination of a new American wife being brought home by her British hubby to meet his family lends itself to a lot of funny situations. I thought Jessica Biel played her part well and Colin Firth is fantastic as normal.
½
A very enjoyable story about trying to move through life with all of the baggage that we inherit from our family and accumulate on our own. Witty, clever and at times touching. Made all the more powerful by the writing of Noel Coward and this amazing group of actors. Though the weakest link is Biel...she does a pretty good job at holding her own against this pretty amazing cast. Kristin Scott Thomas and Colin Firth are favorites of mine and are great here. And it was my first time seeing Katherine Parkinson outside of her performance on the BBC series The IT Crowd and she was great as well. Even the soundtrack was very clever with a 1920-30 style badn performing hits from the period intermixed with random hits from other (later) eras, done in 1920's style.
½
...I think my dislike for this movie was clearly on the basis of miscasting...Jessica Beil does not ring as the perfect 20s flapper that this role called for. She just doesnt have the chops or the experience. It just didnt fit her at ALL. Collin Ferral and the rest of the cast were perfect but I just did NOT LIKE Beil in this role...They should have gotten someone different.
Morgan Salem
Super Reviewer
Easy Virtue Quotes
| | |
| --- | --- |
| John Whittaker: | Mother,this is my wife,Larita. |
| Larita Huntington: | Mrs Whittaker, the pleasure is all mine! |
| Veronica Whittaker: | Oh,you're American... |
| Colonel Jim Whittaker: | And very welcome! |
| | |
| --- | --- |
| Larita Huntington: | You have no idea what it means to love someone so much that you will do anything for them. Even inject them with poison when they were too feeble to do it for themselves. |