Dance of the Dead
(2008)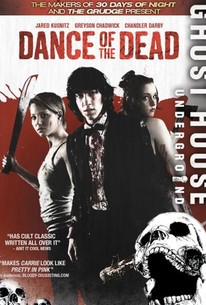 Movie Info
As prom gets underway and the dead come out to play, the only hope for saving the day is the mismatched couple that can't seem to agree on anything. As the Cosa High School Senior Prom draws near, the local teens are more preoccupied with getting laid and looking good on the big night. But while local teen Jimmy (Jared Kusnitz) seems completely unfazed by all the infectious enthusiasm that's spreading through the student body, his girlfriend Lindsey (Greyson Chadwick) has thrown herself into the teenage ritual and remains determined to have the perfect romantic evening. But it's kind of difficult to enjoy an intimate dance when your classmates are trying to eat your brains, and when the tux-clad teens begin turning blue and munching on flesh, Jimmy and Lindsey are forced to put their differences aside long enough to extinguish the zombie plague before it spreads beyond campus grounds.
Critic Reviews for Dance of the Dead
Audience Reviews for Dance of the Dead
½
High school graduation and zombies, yay. These are the quick zombies if one cares about that differentiation. And excepting one zpmbie make-out session that's gonna need more ketchup there's little here that hasn't been done elsewhere and much better. And that is that. Save it for later if you must.
Kevin M. Williams
Super Reviewer
One or two nice moments, but as a whole, meh.
Ken Stachnik
Super Reviewer
From the title and the premise you can't really expect much from a 21st century high-school zombie romp. But this surprisingly delivers. It's funny, crazy and fast-paced entertainment. Jared Kusnitz plays a charming lead as Jimmy the reluctant hero. For a low-budget movie it ticks all the boxes in terms of a witty script, swift direction and a dynamic cast. It's actually captures the feel of the good old zombie films of the past. Ultimately its fun - the gore is humourous, there's satisfyingly cheesy one liners ('Where y'all going?' 'To the prom to kick some zombie ass') and clever set pieces (loved the contrast of the funeral home then the prom). For £5 for the DVD, fun is all it needed to be.
Shauna Robinson
Super Reviewer
Dance of the Dead Quotes
There are no approved quotes yet for this movie.