Me and Orson Welles
(2009)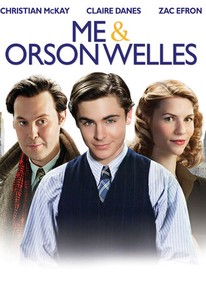 TOMATOMETER
AUDIENCE SCORE
Critic Consensus: Me and Orson Welles boasts a breakout performance by Christian McKay and an infectious love of the backstage drama that overcomes its sometimes fluffy tone.
Me and Orson Welles Photos
Movie Info
In a whirlwind week in 1937 in New York City, a young aspiring actor named Richard is thrown into the middle of Orson Welles Mercury Theatre Company on the eve of the opening of Welles historic staging of Shakespeare's Julius Caesar. During this week he will find romance with a worldly older woman, becomes immersed in a creative experience few are afforded and learn the downside of crossing the imperious, brilliant Welles. Richard is about to grow up fast.
News & Interviews for Me and Orson Welles
Critic Reviews for Me and Orson Welles
Audience Reviews for Me and Orson Welles
During the viewing of this sweet nostalgic look at backstage life, I wondered how anybody came up with the funding for it! Nobody gets thrown out of a window, no cars explode, there are no scenes of bloody carnage, and there's not even one cute dog. But there is a romanticized slice of honest Americana, a look back at the theatre rehearsals that lead up to a revolutionary production of Julius Caesar, one directed by the 22 year old Orson Welles; framing the tale is also a coming-of-age romance between young Zac Efron and one of two young women he meets as he is hired by Welles to play a bit part in the play--for those with some knowledge of the Mercury Theatre, its fascinating to see a spot-on impersonation of young Joseph Cotten played by Joseph Tupper, but the entire joy of the film is meeting Orson himself in the person of Christian McKay, who seems imbued with the spirit of the man in an uncanny revelatory performance, worth all 107 minutes of the film. This is a film for folks interested in theatre or the cinema, and will doubtless be lost on those in search of realistic action adventures--there's just a hint of early Woody Allen in the film, too--and my hope is that someone is already looking for a another, more complex look at the Boy Genius starring McKay.. 4 stars 11-16-13
Bruce Bruce
Super Reviewer
In yet another fictional biopic (like My Week With Marilyn), Me And Orson Welles is about a larger than life character,and a time and a place. The year is 1937 and Welles is set to produce and star in his groundbreaking interpretation of Julius Caesar. Just as Marilyn gets inside the film industry, here we get a wonderful peak inside a Broadway production (and as an added bonus a radio production as well). While the story may be a tried and true method - young high schooler is in the right place at the right time and fate allows him to be included in the production of Caesar - where the film truly shines is when it focuses on the production and the whirlwind who stirs the drink, Orson Welles. In a fantastic and Oscar worthy performance Christian McKay brings the man to life, warts and all. His charisma, his charm, his insecurities are all on display and after the first five minutes you truly feel that you are watching Welles in action. Director Richard Linklater wonderfully decided to film this piece in a decidedly 1940-50's noir style. From the way each scene is set up to the way the characters interact - all solidly inside the genre. The ensemble acting is solid as is the brazen, self confident youth portrayed by Zac Efron, and the so called love interest in the story, portrayed by Claire Danes. It all works, but it is McKay as Welles who demands your attention. The script has a few flaws and occasionally teeters towards the melodrama that you find in the noir style, but there are gems aplenty here. For example, when a couple of actors are talking with Efron and saying that in a book, all the "action" (read sex) takes place during the quadruple space. Meaning that the book will give you a lead up like "they looked longingly into each others eyes and then she reached over and turned out the lights". "The next morning..." - see, the action happened during those extra spaces. There is also a wonderful scene where Welles reads a segment of The Magnificent Ambersons (which he later made into a film) to Efron and then manages to ad lib the passage into a radio broadcast he takes part in an hour later. Through it all you get a glimpse at the genius that was Welles through his production of Julius Caesar. In 1937 fascism was on the rise, so staging the play in modern garb gave an entirely different spin to the tale. You also see how Welles was in control of every aspect of the production - this was his vision, from stage cues to how and when the orchestra would be heard from. The filming of opening night was wonderful and the film could have easily ended with Welles looking out at the standing ovation and asking himself "how am I going to ever top this?" That the film didn't end here was a slight misstep, as it tried to show that the film was really more about Efron than Welles - but we all know better.
paul sandberg
Super Reviewer
I was surprised by how much I enjoyed this movie. A lot of this comes from Christian McKay's spot-on role as Orson Welles, with all the self-constructed grandeur that came with him. The rest of the cast, while slightly pushed from the spotlight by McKay, is excellent all around, with virtually no exceptions. It's also incredibly interesting how Zac Efron, as an actor, is reflected in the character he plays. His character, Richard, claims at the film's beginning that he's only been in school productions, but tries throughout the course of the film to prove himself as a true actor. This movie also happens to be Efron's own attempts to prove himself as a viable lead after being "The Highschool Musical Guy". While I won't say if his character succeeds in the movie, he certainly succeeds at the role - by the end of the movie, I had accepted him as much more than the cheap Disney star he once appeared to be.
Sam Barnett
Super Reviewer
Me and Orson Welles Quotes
| | |
| --- | --- |
| Orson Welles (Brutus): | Those back-doors don't open for Jesus Christ himself! |
| | |
| --- | --- |
| Orson Welles (Brutus): | Consonants, consonants, consonants...and don't forget the vowels. |
| | |
| --- | --- |
| Orson Welles (Brutus): | That's all we need: a dozen critics with wet asses. |
| | |
| --- | --- |
| Dr. Mewling: | By the year of 1592, Shakespeare was already an actor, and a playwright. Records of how his stage career began have not survived. We do know that in 1594 he joined a theater troupe. Called... anyone remember? Not everyone at once now. The Lord Chamberlain's Men. |