Vacancy 2: The First Cut
(2009)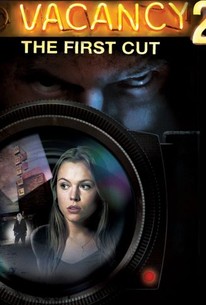 AUDIENCE SCORE
Critic Consensus: No consensus yet.
Vacancy 2: The First Cut Photos
Movie Info
Murder by Numbers star Agnes Bruckner headlines this sequel to the tense, 2007 horror thriller about a lonely motel that's wired for terror. When Caleb, his new fiancée Jessica, and their wisecracking friend Tanner checked into the Meadow View Inn, they thought their scariest thing about their stay would be the tacky décor. But folks who check into this motel are never heard from again, because the sadistic Mr. Smith and his murderous accomplices have a habit of murdering their guests on camera and turning the tapes for a tidy profit. When Caleb, Jessica, and Tanner fall into Mr. Smith's diabolical trap, their only hope for survival is to fight though the night and become as brutal as their attackers.
Critic Reviews for Vacancy 2: The First Cut
Audience Reviews for Vacancy 2: The First Cut
½
Vacancy was a fine return to the classic Horror genre with tension and suspense and terrific pacing throughout the film. With this prequel, the filmmakers strip away whatever was good with the original and try to come up with something new. Ultimately it's a failure and it doesn't do the original justice. What made the first film so good was the strong performances by Beckinsale and Wilson. But with The First Cut, we get a totally new cast of pathetic actors who are more annoying than talented. The film tries to do something new, but it fails. If you've loved the first film, you don't need to watch this. It's basically the same film, with a less than talented cast and a smaller budget. A terrible film.
Dead Angel
Super Reviewer
While this film is true to its predecessor, it does have a distinct direct-to-DVD feel to it.
Roy Gutteridge
Super Reviewer
Vacancy 2: The First Cut Quotes
There are no approved quotes yet for this movie.