The Last House on the Left
(2009)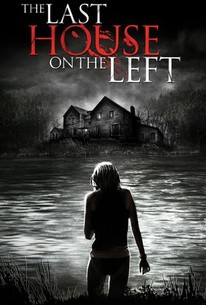 The Last House on the Left Photos
Movie Info
Renowned horror director Wes Craven returns to the scene of the most notorious thrillers of all time in this darkly disturbing Unrated reimagining of The Last House on the Left. After kidnapping and ruthlessly assaulting two teen girls, a sadistic killer and his gang unknowingly find shelter from a storm at the home of one of the victim's parents-- two ordinary people who will go to increasingly gruesome extremes to get revenge. Loaded with shocking twists guaranteed to leave you on edge, it's the ominous film critics call, "One of the best horror remakes ever made" (Scott Weinberg, Fearnet.com). See what was too shocking for theaters.
News & Interviews for The Last House on the Left
Critic Reviews for The Last House on the Left
Audience Reviews for The Last House on the Left
½
Visceral walk in the woods of a tale with three parts: first the set-up, wherein a happy family visits their isolated woodland retreat; second, introduction of seriously sicko bad guys (including the perversely Hitchcockian you-are-accessory-to-the-crimes-simply-because-you-like-to-watch angle), and lastly, the happy family's REVENGE. Fun for the entire family? No.
Kevin M. Williams
Super Reviewer
½
[img]http://images.rottentomatoes.com/images/user/icons/icon13.gif[/img] I have very peculiar, mixed and sort of concerned feelings about this film. 2009's Friday the 13th was a remake that was worth doing because the original had almost no redeeming features about it. Although a cash in it was surprisingly good for what it was. However I must also applaud it for being greater than this remake. Interestingly, the original 1972 classic "Last House on the Left" was trashily made, abandoned of a consistent tone and was essentialy an extremely unpleasant film to watch. It was famous for being one of the most controversial members of the "video nasties" in 1982 which were a collection of gritty and repugnant films that were deemed dangerous for a human being to watch. Even though it was badly made, it remains a historical artifact about challenging the boundaries and attacking censorship and like I said that it all added up to a very unpleasant, horrible, disgusting experience. The remake of The Last House on the Left doesn't have any point to exist other than one, money. It's a finely directed, impressively acted and highly scrubbed and polished piece of work. But it has no excuse for existing. It's not a bad film but it's actually more extravagant, silly and sympathetic than the original because it promotes the idea of salvation over violence. But much more harshly and importantly the original film's message to the viewer was; violence creates violence.
Directors Cat
Super Reviewer
Interesting remake of Wes Craven's 1972 film, The Last House on the Left. I view Craven's original film as an exploitation horror classic that pushed the boundaries of good taste. With that said, this remake is still pretty disturbing and delivers some brutal scenes of revenge mayhem. I much preferred the original film of course, but as a remake, this film isn't bad. As a remake of the original, I thought that this film was pretty good. The film improves on Wes Craven's film in some respects. The film is better than most remakes, but as a whole you'd be better off to stick with the classic film. Nothing can beat Craven's debut. This film has plenty of good, effective moments of tension and is a revenge flick. However there is something missing to really make it stand out above Craven's film, and since this is a remake; it really can't be as good as the original. There's some good performances and like I said, considering the whole remake factor, that's saying a lot. The film has its faults, but for the most part it succeeds at being an effective horror flick, and one that stands out among the better remakes that have come out in recent memory. If you've enjoyed the original, then give this version a shot. The film is definitely worth checking out, and despite its flaws, has something that will definitely appeal to horror fans. For a remake, this film is watchable and definitely a step above the traditional Asian horror remakes.
The Last House on the Left Quotes
| | |
| --- | --- |
| Justin: | Dad, look, I was just trying to liquidate some of the.. |
| Krug: | Liquidate. Wow. Is that my word or yours? |
| | |
| --- | --- |
| Paige: | You know what Mari? I think Justin here could be kind of cute if he lost his whole like creepy, hooded Unabomber kind of vibe he's got going on. Don't you think? |