The Crazies
(2010)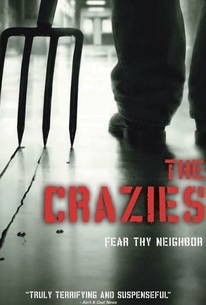 Movie Info
David Dutten is sheriff of Ogden Marsh, a picture-perfect American. But one night, one of them comes to a school baseball game with a loaded shotgun, ready to kill. Another man burns down his own house, after locking his wife and young son in a closet inside. Something is infecting the citizens of Ogden Marsh -- with insanity. In an effort to keep the madness contained, the government uses deadly force to close off all access and won't let anyone in or out -- even those uninfected. The few still sane find themselves trapped: Forced to band together, an ordinary night becomes a horrifying struggle for survival as they do their best to get out of town alive.
Critic Reviews for The Crazies
Audience Reviews for The Crazies
½
A tedious, formulaic movie full of clichés, deus ex machinas, irritating loud bumps and characters who behave in the most incomprehensible way - which is a pity considering its good performances (especially Joe Anderson) -, and it has a terrible, ridiculous conclusion.
Carlos Magalhães
Super Reviewer
I must admit the Movie "The Carriers" was alot better than this one. Well actually this one was a waste of time and 3.50 Francs.
½
"THAT SHI CRAY." That was my response after watching "The Crazies". The crazies in the movie are CRAY. It's not the usual mindless zombies that we're used to; these guys are smart, use tools, communicate, and set traps. As you can imagine, you don't wanna run into these guys. There's one scene in particular that works on every level that a horror movie should (Car wash scene). Exquisitely shot and riveting. You will be tense in a number of scenes. Unfortunately, the rest seems like a big ball of mash that seems sloppily put together.
The Crazies Quotes
| | |
| --- | --- |
| Becca: | It's gonna be allright. We're going to be okay. |
| Becca: | You really believe that, do you. |
| | |
| --- | --- |
| Russell: | Uhh sherrif I'm all for a little civil disobedience, but I think this one might cost you your job! |
| David Dutten: | You know what Rus, that wouldn't be such a bad thing! |
| | |
| --- | --- |
| Russell: | I saw movement! |
| David Dutten: | Everything is fucking moving! |
| | |
| --- | --- |
| Becca: | Please, just go away, pleeaasse!! |
| Becca: | Please, just go away. Please! |
| Judy Dutten: | NOOOOOOOOOOOOOOOOOOOOO!!!!!!!!!!!!!!!!!! |
| Judy Dutten: | NO! |