The Three Stooges
(2012)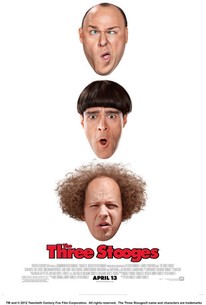 TOMATOMETER
AUDIENCE SCORE
Critic Consensus: While nowhere near as painful as it could have been, The Three Stooges fails to add fresh laughs to the Stooges' inestimable cinematic legacy.
Movie Info
Left on a nun's doorstep, Larry, Curly and Moe grow up finger-poking, nyuk-nyuking and woo-woo-wooing their way to uncharted levels of knuckleheaded misadventure. Out to save their childhood home, only The Three Stooges could become embroiled in an oddball murder plot...while also stumbling into starring in a phenomenally successful TV reality show. -- (C) 20th Century Fox
News & Interviews for The Three Stooges
Critic Reviews for The Three Stooges
Audience Reviews for The Three Stooges
Bobby and Peter Farrelly bring old style slapstick comedy to modern days with The Three Stooges.
The story is simple and requires less than 90 minutes to tell. The story is also told in episodes, which is broken up quite nicely and laced with the original theme song. With that said, the story does take a back seat to the antics of the Stooges.
The slapstick humor and sound effects stay true to how the Stooges should behave and it is all delivered at rapid fire pace for most of the film. The biggest challenge is finding a way to work this comedy into modern times. At times, this picture successfully does that, but at others it is awkward and out of place.
Chris Diamantopoulos, Sean Hayes, and Will Sasso deliver good performances. Their facial expressions, movements, and line delivery successfully brings out the personalities of the Stooges.
The Three Stooges will definitely divide the audience, but fans of the original series will get the most out of this.
"I have DVD collections of the great Three Stooges and I was looking forward to a film being made. However I was EXTREMELY disappointed with this film. If you can call it that. It's awful. So badly made. The directing, acting, the editing, I didn't like any of it. I wish they would have developed a better script. I didn't mind the three leads since they actually resembled the actual cast. But the rest is all a mess. I think with a better script and better directing it could have been much better."
♥˩ƳИИ ƜѲѲƉƧ♥
Super Reviewer
Not the travesty that it was advertised to be, this adaptation of the original material from the one and only Three Stooges takes a few steps in the right direction. Knowing they couldn't make an entirely new Stooges' film, the stars of the film are three very convincing impersonators; including MADtv's Will Sasso, Will and Grace's Sean Hayes, and unknown Chris Diamantopoulos. Fraught with cameos and some stellar comedic performances from people such as Jane Lynch, Larry David, and Sofia Vergara, the film has some silly and inspired moments. The film is set up as many of the Stooges' shorts, stringing them together to form a film The last twenty minutes or last short, drags to an uncomfortable point, but that's just from trying to tie up the haphazard plot. It doesn't exactly work, but it's obviously not meant to be a film that serious or comedic. It's goofy and fun, doesn't try too hard and doesn't cop out with the Jersey Shore crew. They're featured, but it's more abusive than anything. The Stooges are either doing their usual schtick or make the most hilarious puns and misunderstanding guffaws. There are actual laugh out loud moments, and though this isn't a game changer or a true classic, but it's something that is light, funny, and is a way to get away from the world. The Stooges were never given the same oppurtunities, or even an acclaimed feature length film such as The Marx Brothers, and clung to fame in their golden years. Giving them any type of tribute was long overdue, and I applaud all involved for giving them that love and honorary affection. The Farrelly brothers weren't the right people for that job, and certainly this isn't one of their better films, but at least some laughs came out of it. I think The Stooges would be proud.
Spencer S.
Super Reviewer
The Three Stooges Quotes
| | |
| --- | --- |
| J-Wowww: | Hey that's assault! |
| Moe Howard: | Yeah well here's the pepper [SMACK] |
| Moe Howard: | Yeah well here's the pepper! |
| | |
| --- | --- |
| Sister Mary-Mengele: | Shut up! This isn't "The Sound of Music"! |
| Sister Mary-Mengele: | Shut up! This isn't 'The Sound of Music'! |
| | |
| --- | --- |
| Sister Mary-Mengele: | I save 15% on my car insurance. |
| | |
| --- | --- |
| Moe Howard: | What is that gadget? |
| Teddy: | This is an iPhone. |
| Curly Howard: | An iPhone? [brings the iPhone to his eye] Hello? Hello? [gives it back] There's nobody there. |