Creation
(2010)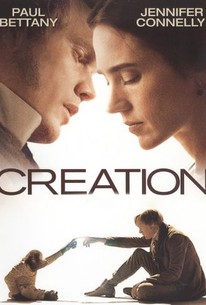 TOMATOMETER
AUDIENCE SCORE
Critic Consensus: This Charles Darwin biopic is curiously dispassionate, but Creation contains some of director Jon Amiel's best work, and Paul Bettany's performance is not to be missed.
Movie Info
Based on "Annie's Box," -- a biography penned by Charles Darwin's great-great-grandson Randal Keynes, using personal letters and diaries of the Darwin family-- "Creation" takes a unique and inside look at Darwin, his family and his love for his deeply religious wife, Torn between faith and science, Darwin struggles to finish his legendary book "On the Origin of Species," which goes on to become the foundation for evolutionary biology.
News & Interviews for Creation
Critic Reviews for Creation
Audience Reviews for Creation
½
A solid and mostly restrained biopic about all the sadness and personal conflict that Charles Darwin went through while writing a book that would forever change History, and fortunately it avoids any sign of melodrama and has a strong performance by Paul Bettany.
Carlos Magalhães
Super Reviewer
Although th brilliant cast and narrative were strong, the way in which it was shown was quite difficult to understand. For a while I was unsure if his daughter was in fact dead but maybe that's what was wanted, however it was confusing when it came to the past/present. Overall great performances and a decent film.
Sophie Burgess
Super Reviewer
½
On the surface Creation may seem to be the typical Hallmark presents kind of biopic; telling the story of the life of Darwin; but while there are certainly historical facts in the film the story remains only a backdrop for the much heavier discussion concerning the nature of things. Just about everyone is versed in Darwin's theories, (belief in said theories is apparently optional) - from natural selection (survival of the fittest) to the grander and accompanying concept of evolution itself. In order for the film to survive, it must deftly tread through the emotional minefield that Darwin himself seemed reluctant to enter: the age-old battle between science and religion. Just as Newton did a half century before him, Darwin tried to match his scientific observations to old testament religious dogma when both would have been better served to jettison the dogma for a more enlightened view of "the creator" (or God), in which evolution is part and parcel of the creator's plan. Of course the battle lines were drawn by others - from the scientists who chaffed against the church's strict guidelines, to the church hierarchy who missed the opportunity to embrace these new scientific revelations as proof of God's existence, and instead retreated behind some several thousand year old scribbles and called anything that contradicted the book blasphemy. But enough of the theology lesson, for while the film can't but help entering into the fray, it is more about personal faith and the interconnectivity of all things. On one hand you have a story being told of Darwin (Paul Bettany), his wife (and first cousin, another theme that comes into play), and their firstborn daughter Annie (Martha West). It becomes obvious that Annie is the apple of Darwin's eye; an intensely curious, precocious and fearless child who succumbs to pneumonia at age 10. This story is told in a series of flashbacks as Darwin is haunted by her ghost (metaphorically or otherwise, since he is perhaps hallucinating as indicated by the fact that he is taking laudanum in an effort to treat ills that may be psychological in nature). What is far more interesting than the story itself is how the film weaves the great theories into the story in an almost covert manner. After Annie's death Darwin becomes a shell of a man, having lost his great taste for nature as well as his faith, not only in the religion to which he was raised, but faith in himself and his relationship with his wife (a solid performance by Jennifer Connelly), who took the alternate tack of falling further into religion, using it as a crutch to keep her sorrow at bay. Proceeding at a slow pace, the film gives ample time to contemplate the issues at hand, and does a masterful job of weaving and connecting the concepts and stories. Annie has a favorite tale that she frequently requests her father to tell: that of Jennie, the first orangutan in captivity. Darwin weaves this tale, giving the ape a great deal of humanity, telling Annie that Jennie was just as curious about the strange creatures gaping at her as the people were upon seeing her for the first time. The story of Jennie is broken into segments, as other themes and stories are told; but eventually it is revealed that there is a distinct similarity between the story of Jennie and Annie. Truly interesting in this period piece is that while Darwin and the science of the 1850's are making great strides towards the understanding of connectivity and several other issues, the medical field is seemingly entrenched in the middle ages. Provocative is that a quack doctor, who adheres to "hydrotherapy" which includes being doused in freezing water, is also a natural psychiatrist at heart, correctly diagnosing that Darwin's illness is in his soul, and until he confronts his demon, no amount of physical therapy will cure him. The illness in his soul is Darwin's loss of faith, not just in the religious sense, but also in his sense of self and his life. Believing that his wife holds him responsible for Annie's death, he withdraws from her and the rest of his family, becoming a ghost himself, who haunts his manor house but is not really there. His great book, The Origin of Species, remains half written, as he cannot face the naysayers who will assuredly condemn him as a heretic, or the parts of the scientific community who will use the book as an attack on religion (as one alleged supporter succinctly put it "congratulations Charles, you have killed God"). This isn't what Darwin wants or intends, as he at one point says, "religion (faith) is the raft on which society floats". Unfortunately, in the 1850's faith equals THE CHURCH, and the church in spite of all evidence squashes any question of an affirmation of spirituality hinted at by science. The film uses a fine example of Annie receiving a severe punishment by her teacher (in a religion sponsored school) for her blasphemy of believing in dinosaurs (the head of which she has actually seen). At the time the religious argument was that dinosaurs never existed since they are no longer around, and God would not create a creature and then let them become extinct (not to mention the age of the dinosaurs contradicts the old testament scribble concerning the age of the earth). That these kind of arguments continue 160 years later amazes me and is why I believe this film is important, as it points out that faith comes in many shapes and sizes and can indeed exist well outside the confines of organized religion. Perhaps I'm spending too much time covering the issues of the film and not the film itself. I will say that the script is intelligent, and the performances of Bettany, Connelly and West are solid (as are several bit players). There are some very nice bits of cinematic artistry, including some nice bits of nature photography as well as time- lapse photography to illustrate how all things are connected. The pacing gets a bit bogged down at times (some judicious editing concerning Darwin's inner struggles might be warranted), but I was overall very impressed that the film told so many seemingly unrelated stories that yet all had meanings within the grand framework.
paul sandberg
Super Reviewer
Creation Quotes
There are no approved quotes yet for this movie.