Stiletto
(2008)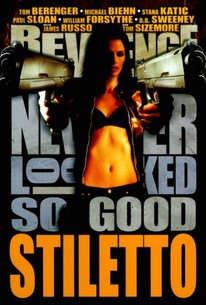 AUDIENCE SCORE
Critic Consensus: No consensus yet.
Movie Info
A deadly seductress sets out to avenge her sister, in the process uncovering a dark conspiracy that makes her question everything she's been fighting for in this action thriller featuring Tom Berenger, Tom Sizemore, William Forsythe, and Michael Biehn. Raina (Stana Katic) was deeply in love with powerful crime boss Virgil Vadalos (Berenger) until she discovered that he was involved with her sister's disappearance. After that, their relationship met a violent end. Now Raina is determined to take out Virgil and his entire crew. With nothing more than unbridled fury and a particularly sharp knife, Raina starts at the lower rungs of Virgil's organization and methodically begins moving her way up through the ranks. But Virgil is no sucker, and in order to stop the slaughter he calls on crooked cop Beck (Paul Sloan) to stop Raina no matter what it takes. Now, as the streets of Los Angeles run red with blood, Raina and Beck discover that in this city, there is no escaping the tyranny of the corrupt.
Critic Reviews for Stiletto
There are no critic reviews yet for Stiletto. Keep checking Rotten Tomatoes for updates!
Audience Reviews for Stiletto
A pretty impressive cast line up can't save this poorly made film from coming across as a shoddy TV movie type affair, the plot is your basic revenge theme only the killer is a sexy female ala Nikita. Its actually just a complete rip of the Besson film really and all other Nikita style plots/films but its not even convincing with really dodgy acting, bad editing and poor action with obvious doubles etc.. The main cast are some big character actor names....Biehn, Berenger, Forsythe but they are also names that peaked along time ago and clearly now take anything that comes along, Berenger is really badly cast as a mob boss here. There are some sequences shot with handheld which does add abit of realism to the whole thing but everything is just a big cliche and has been done many times before, its bordering on just plain silliness at times with certain scenes and dialog.
Phil Hubbs
Super Reviewer
½
A young woman believes she has been wronged by her lover, so she seeks revenge upon all who may have been involved. She marks them all for death and one by one, she seduces or openly attacks them with a Stiletto (her favorite choice of weapon). A lot of familiar faces like Amanda Brooks, Michael Biehn, Tom Berenger, William Forsythe, James Russo, Tony Lip, Kelly Hu, and Tom Sizemore. Stana Katic is the female killer protagonist (sexy star lead in the ABC series, Castle, The Spirit and Quantum of Solace) If you are into crime or revenge films with lots of action, you will love this.
What an incredible Russian killing machine this woman is...she went all out in a killing frenzy bent on the concept of getting revenge. Surprisingly worth the watch as a b-movie...See it...as we patiently await for Boondock Saints 2 : All Saints Day...
Fascade Fiveoneeight
Super Reviewer
Stiletto Quotes
There are no approved quotes yet for this movie.