Our Man in Havana
(1959)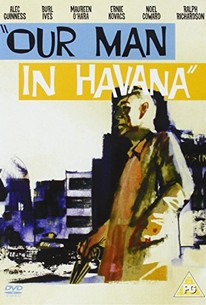 Movie Info
Graham Greene wrote this witty comedy inspired by Cold War paranoia. Jim Wormald (Alec Guiness) is an Englishman selling vacuum cleaners in Cuba on the cusp of the revolution. Hawthorne (Noel Coward), a British intelligence agent, is looking for information on Cuban affairs and recruits Jim to act as a spy. Jim has no experience in espionage and no useful knowledge to pass along, but Hawthorne is willing to pay for his services, and since Jim's daughter Milly (Jo Morrow) has expensive tastes, he can use the money. To keep Hawthorne happy (and his paychecks coming in), he turns in reports on the Cuban revolution that are copied from public documents, "hires" additional agents who don't exist, and presents blueprints of secret weapons that are actually schematics of his carpet sweepers. However, Hawthorne and associate "C" (Ralph Richardson) think that Jim is doing splendid work and encourage him to continue; meanwhile, Capt. Segura (Ernie Kovacs), the elegantly corrupt chief of police, has been fooled by Jim's charade into believing he's a real spy -- and has also become attracted to Milly. Our Man in Havana also features Burl Ives and Maureen O'Hara in supporting roles. ~ Mark Deming, Rovi
Critic Reviews for Our Man in Havana
Audience Reviews for Our Man in Havana
A very droll comedy. Some of the commentary isn't fully explored but Guiness' central performance is deeply complex and often hilarious. His interactions with Coward are delightful.
Alec Barniskis
Super Reviewer
½
This is from the Martini Movie Collection, There are a number of movies I never heard of in this collection. this one called Our Man in Havana. Its hard to decided if this is supposed to be a comedy, a suspense film or drama. This movie filmed in Cuba in 1959, before it closed its doors to America, also by the looks of things was quite rich and beautiful, a vacuum cleaner salesman is recruited to be a British Agent, he makes up intelligence and agents that do exist, everything is going alone fine till Britain awards him a secretary and then his world starts to crumple. A very enjoyable film noir title to say the least. The recipe along with this film is Cuban Martini, and you might need a few to help you enjoy the movie more. 3 1/2 stars for this one.
Bruce Bruce
Super Reviewer
Alec Guinness plays the hapless secret agent in a tale of secret service blunders and ministers who can't lose face that still rings true today. Superbly clever yet still light and humorous entertainment. The most enjoyable movie from the B&W era that I've seen. Filmed during the first months of the Cuban revolutionary government, it was set shortly before the revolution and the Cuban missile crisis that it almost prophetically predicts.
Ross Collins
Super Reviewer
Our Man in Havana Quotes
There are no approved quotes yet for this movie.