Camille
(2009)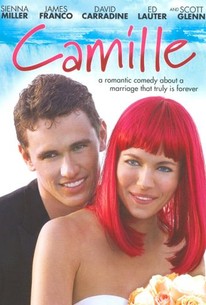 AUDIENCE SCORE
Critic Consensus: No consensus yet.
Movie Info
Sienna Miller and James Franco star in first-time producer/director Gregory Mackenzie's twisted romance about a honeymooning couple who discovers that sometimes love is stronger than death. Recent parolee Silas (Franco) has just been blackmailed into marrying the beautiful Camille (Miller), and he's none to happy about the arrangement; despite the fact that he can't stand her, she still worships the ground he walks on. But now the law is family, and should the union fail, Silas' new uncle-in-law, Sheriff Foster (Scott Glen), will ensure that the disgruntled groom is sent back to the slammer in a flash. Immediately after the wedding, however, things get complicated when Silas and Camille are run off the road by a reckless truck driver. When Silas regains conscious and stumbles over to Camille's contorted body, it's obvious that she's suffered a fatal injury in the accident. After fleeing the scene and attempting to summon help, Silas returns to the sight of the crash and finds Camille nursing a serious neck injury down by the river while frantically trying to get the grass stains out of her wedding dress. Desperate, the couple hitches a ride with the nomadic Cowboy Bob (David Carradine), eventually realizing that Camille didn't survive the accident despite the fact that she's somehow able to walk and talk with the living. As Camille's body begins to decay, the situation grows complicated when the couple learns that the police are on their trail for an imagined robbery and murder.
Critic Reviews for Camille
Audience Reviews for Camille
Nonsensical in a bad way. There was nothing interesting about it.
Sarah Prisbylla
Super Reviewer
James Franco plays Silas, a former inmate who has made a deal with his parole officer to be let out unless he marries his chatterbox niece, Camille. Silas agrees to but can not stand the women. Camille and Silas are of to Niagara Falls for their honeymoon. For Camille, its a dream come true. For Silas, its torture. The two are later harmed in an accident. Silas lives but Camille has stop breathing and is slowly decaying. However, she can still walk and talk. Its up to Silas to get her to Niagara Falls before she passes on. Its amazing what kind of films you can watch instantly on Netflix. This was one of them. It really was quite something. It was a good blend of romance, drama, and dark comedy. "Camille" is a dark romantic dramedy. James Franco is great like always. Even in films that aren't of the best quality (i.e. "Spider-Man 3", "The Green Hornet"), this man can still shine. He can also make a good southern accent in the film. He was great in the film. I think I would trust him to carry a corpse around the country. Sienna Miller of "G.I. Joe" fame plays Camille. I don't think anyone else could have played the character. She was very good. Miller and Franco are the only big names in the cast. I don't know anyone else. But the supporting was great and knew hot to react with a living corpse walking around. There really isn't much special effects. There was a weird dream sequence with a weird effect. It was cheesy but fit with the film. The writing was also great! "Camille" is a unique little indie flick. I wish it got more attention from the public. If you love ghost films or dark romances like "Corpse Bride", seek out "Camille". It is really something. Its a great dark romance. ♫"Faith" was more than just a word.♫
Bentley Lyles
Super Reviewer
A watched Camille a while back, and the only thing that is really sticking out is that the film is incredibly trippy. The humor and charm, while good, really is forgettable. Still, the actual story and style is so delightfully twisted and wacked-out that you cannot really help but like it, at least to some degree.
Camille Quotes
| | |
| --- | --- |
| Silas: | I think your dead.... |
| Silas: | I think your dead. |
| | |
| --- | --- |
| Sheriff Foster: | I'm a lawman.  I'm not afraid to take the law into my own hands.  The real law...The law of love. |