Dante 01
(2008)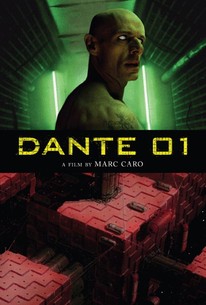 Movie Info
Delicatessen and City of Lost Children co-director Marc Caro makes his solo directorial debut with this nightmarish tale of a deep space prison and the newly arrived inmate suffering from a mysterious alien infection. Dante 01 is a maximum-security penitentiary located at the edge of the galaxy. Upon arriving at Dante 01 for psychiatric evaluation, the sole survivor of a horrifying alien encounter finds himself in the middle of a battle to harness his strange new powers. But the volatile force that now dwells within Saint Georges is greater than anyone realizes, and as it begins to infect both his jailers and fellow inmates alike the entire facility is soon swallowed up in violent rebellion. ~ Jason Buchanan, Rovi
Critic Reviews for Dante 01
Audience Reviews for Dante 01
An enigmatic stranger is introduced into the population of a space station containing a collection of the criminally insane being used as guinea pigs for experimental treatments. Being directed as it was by one half of the team responsible for Delicatessen and The City Of Lost Children, Dante 01 is as visually pleasing as you'd expect. There is some beautiful imagery and use of colour and the premise intriguing in a kind of cross between Solaris and The Experiment. The script is packed with references to religion and classic literature to the point where I think you may need a PhD in philosophy to have the slightest clue what the film is actually about as little is explained and the conclusion is one of those Manga style existential spectacles that are utterly baffling to the uninitiated. The strong performances and attractive styling will keep the attention of those not too troubled by the lack of coherent narrative but anyone requiring a plot that's easy to follow and self explanatory will find it frustratingly pretentious. A genuine oddity that's worth a look for anyone seeking something a little different to the usual formulaic sci-fi.
½
This film is from the 2008 Screamfest Festival. Not as good as some of the other movies show at this festival, matter of fact it was way out there. Its put out by Dimension Extreme, so I knew I was in for something wild. About a prison in space where a new inmate is sent with what appears to be healing powers and can bring the dead back to life. Nothing scary about this one more in line with sci fi. 3 1/2 stars
Bruce Bruce
Super Reviewer
½
A very strange mixture of sci-fi and thriller with some religious allegory thrown in. Some of it doesn't make any sense (to me) but so much of it does and I enjoyed the trademark look that Caro brings over from previous efforts that he made with co-director Jean-Pierre Jeunet. Alot apparently are turned off by it's vagueness and religious overtones but I wasn't one of them and look forward to seeing it again to determine if I can possibly understand it any better.
A.D. Villarreal
Super Reviewer
Dante 01 Quotes
There are no approved quotes yet for this movie.