The Taking of Pelham 1 2 3
(2009)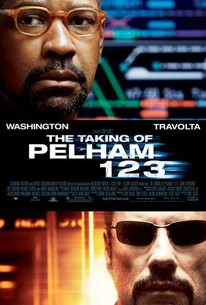 TOMATOMETER
AUDIENCE SCORE
Critic Consensus: Despite a strong cast, The Taking of Pelham 1 2 3 suffers under the excesses of Tony Scott's frantic direction, and fails to measure up to the 1974 original.
The Taking of Pelham 1 2 3 Videos
The Taking of Pelham 1 2 3 Photos
Movie Info
The ordinary day of New York City subway dispatcher Walter Garber is thrown into chaos by an audacious crime: the hijacking of a subway train. Ryder, the criminal mastermind who leads the highly-armed gang of four hijackers, threatens to execute the train's passengers, unless a large ransom is paid within one hour. As the tension mounts beneath his feet, Garber employs his vast knowledge of the subway system in a battle to outwit Ryder and save the hostages. But, there's one riddle Garber can't solve: even if the thieves get the money, how can they possibly escape?
News & Interviews for The Taking of Pelham 1 2 3
Critic Reviews for The Taking of Pelham 1 2 3
Audience Reviews for The Taking of Pelham 1 2 3
A group of hijackers negotiate with a subway dispatcher. Tony Scott's over-direction, which occasionally worked in >True Romance and Crimson Tide, makes this film almost unwatchable. Quick cuts, sharp pans, and an ever-moving circle around characters, Scott allows no subtlety in performance or presentation. Denzel Washington does his best, and John Travolta can play unhinged, but their performances aren't enough to keep the film engaging. The story falls apart as many of the plotlines remain undeveloped and unresolved. James Gandolfini's mayor is set up to be spurious, but this story goes nowhere, and the ending of Ryder and Garber is predictable and improbable. Overall, Washington is a great actor, but this shouldn't go in his highlight reel.
Jim Hunter
Super Reviewer
I've never seen the original so I can't make a comparison there, but I felt the movie stood alone on its own very well. Denzel was Denzel (great as always), even playing a more relaxed role as a control room operator. I thought John Travolta was very good and convincing, especially after not having seen him in films for a while. All in all, I thought the film was great and "at least" average; the scores on RT don't do it any justice....they should be higher.
Eric Alvarez
Super Reviewer
½
[img]http://images.rottentomatoes.com/images/user/icons/icon14.gif[/img] Having nothing more than vague knowledge about the original, I watched this not knowing what i'd get from it, and considering it's a remake of a cult action thriller, I was preparing myself for the worst. But what really surprised me about The Taking Of Pelham 1 2 3 is the amount of negative reactions it's actually recieved. It's not as bad as you might think. It's purely a simple, straight forward, above average thriller with a genius premise that gets executed decently, with enough unique traits to make it stand on it's own far enough from it's inspiration. It boasts several good performances, most notably Denzel Washington and John Travolta who aren't seen much on screen together but still share good hero and villian chemistry through out their time playing mind games with eachother over nothing more than a couple of measely microphones. I personally didn't find a problem with Tony Scott's fast paced direction. I think it added to the experience and was an interesting way to go trying to distance this version away from it's predecessors. In comparison to the original it's easily much louder and and by miles a lot quicker. The action is relentless, hard hitting and brutal and made me feel like I was in true, believable physical danger. That works remarkably well for it's isolated plot and even though there's a few problems such as it's lacks of character development it's a hell of a lot more stylish, ambitious and suspenseful than a lot of thrillers i've seen recently. I'd definetely say that this is one of the most easily enjoyable, and coolest suspense thriller vehicles that i've seen in a very long time.
Directors Cat
Super Reviewer
The Taking of Pelham 1 2 3 Quotes
| | |
| --- | --- |
| Ryder: | She was an ass model |
| Ryder: | She was an ass model. |
| | |
| --- | --- |
| Ryder: | Your my god dam hero. |
| Ryder: | You're my god damn hero. |
| | |
| --- | --- |
| Phil Ramos: | I can't get it out of my head. I'm gonna die today. |
| | |
| --- | --- |
| Ryder: | Life is simple now. They just have to do what I say. |