Made in U.S.A.
(1966)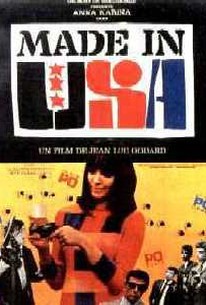 Movie Info
A young woman finds herself caught up in murder and a Cold War conspiracy.
Critic Reviews for Made in U.S.A.
Audience Reviews for Made in U.S.A.
Toward the beginning of this film, I thought, "Wow: Godard hasn't completely eschewed the idea of using a plot to reveal characters through action and make their decisions reflect whatever political/philosophical point he wants to share." Then, that fucking radio voice spouting socialist propaganda appeared again, and I almost hurled my remote control through the television. But I didn't, dear friends. No, my television remains unfettered by a remote control sticking through its screen. What did I really do when Godard reverted to using his radio voice? I slumped in my chair. I played Blackjack on my iPhone. I waited for it all to be over - like a root canal or a conversation with my grandmother. On a gem-within-a-pile-of-shit/looking-on-the-bright-side note, I liked the subtle post-structuralism here: the characters frequently refer to the fact that they're in a film, and some of the landmarks are named after famous film directors. This is how I think post-structuralism is effective. The mystery plot, which I suspected might dominate the film's action, is almost unintelligible. I normally try to guess the culprit, but even at the end I didn't know who did it. The main problem with the film is that by that point I didn't care. I'm just happy I got blackjack.
Jim Hunter
Super Reviewer
I've loved some other '60s Godard films, but this one disappointed me. Supposedly an arch remake of "The Big Sleep," "Made in U.S.A." had its "U.S.A." release delayed for decades due to the story rights not being properly cleared. But you'll have to do some brainwork to assemble a plot from this erratic collection of scenes. The film appears to have been shot very quickly and cheaply, and the actors just perfunctorily rattle through their lines as if they're in a hurry to get to the next location. Typically for Godard, there are frequent disruptions of cinematic reality, as characters have names taken from movie history (Ruby Gentry, Donald Siegel, Richard Widmark) and sometimes speak directly into the camera. Music lovers won't want to miss a bar scene about 20 minutes into the action, where a young, ethereal Marianne Faithfull croons "As Tears Go By" a capella. Not onstage -- just casually sitting in a corner booth.
Eric Broome
Super Reviewer
godards noir-comedy is solid but not without its problems. the film lacks the engaging dialogue that i expect from a godard film, and despite its short running time the film wastes a lot of time on silliness that makes for barely enough time to develop the mystery, which was underdeveloped severely. the characters were interesting enough and the quirkiness of the film kept me drawn in, but the film is only slightly above average and fairly forgettable.
Made in U.S.A. Quotes
There are no approved quotes yet for this movie.