Tyson
(2009)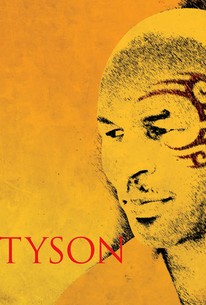 TOMATOMETER
AUDIENCE SCORE
Critic Consensus: A fascinating, emotional, and frank confessional from Iron Mike that sheds a sympathetic light on one of boxing's most controversial icons.
Movie Info
"Tyson" is acclaimed indie director James Toback's stylistically inventive portrait of a mesmerizing Mike Tyson. Toback allows Tyson to reveal himself without inhibition and with eloquence and a pervasive vulnerability. Through a mixture of original interviews and archival footage and photographs, a startlingly complex, fully-rounded human being emerges. The film ranges from Tyson's earliest memories of growing up on the mean streets of Brooklyn through his entry into the world of boxing, to his rollercoaster ride in the funhouse of worldwide fame and fortunes won and lost. It is the story of a legendary and uniquely controversial international athletic icon, a figure conjuring radical questions of race and class. In its depiction of a man rising from the most debased circumstances to unlimited heights, destroyed by his own hubris, "Tyson" emerges as a modern day version of classic Greek tragedy.
News & Interviews for Tyson
Audience Reviews for Tyson
Don't like how it's told from Tyson's point of view. As usual, he can't take the blame for any of his convictions; it's always someone else's fault. I find his story interesting but the film forces us to feel sympathetic for someone who is a rapist and a criminal. I don't really care for him to be honest, and in fact think he's a big liar. Aside from Mike Tyson, the film is badly edited; the multiple frame transitions become distracting after awhile. Also, James Toback should of interviewed more people to get another perspective on Tyson.
Eric Shankle
Super Reviewer
"Tyson" is a very interesting documentary. It's an inevitably exciting film (as Tyson always was in his career), stylishly showcasing many of Tyson's devastating fights while also sensitively exploring Mike's life before, during and after his career. Tyson, in his trademark frank fashion, reveals in a series of interviews how his rough childhood affected him, and how he discovered that violence was the only form of defence for a scared young boy in Brownsville, Brooklyn. Tyson elaborates on his brief life of crime before he was put in a borstal, where he was taken under legendary trainer Cus D'Amato's wing. Within years, Tyson had become an 18 year-old 218lb monster, a superb heavyweight contender. The documentary shows his career highs, as well as his painful decline to rock bottom, with Tyson covering his disastrous marriage to Robin Givens, his rape charge (which he vehemently denies), and his controversial losses to Evander Holyfield. 'Tyson' gives a solid overview of his life, it is a taut documentary that is guaranteed to hold your attention through both recent interviews and archive footage. I can imagine some critics will criticise the film's depiction of its leading man. Indeed, the film portrays Mike sympathetically, but Tyson is a remarkably honest man, I know few other public figures of his stature who parallel his frank openness. While the grounds of his rape charge are dubious and open for contention, I feel he is genuine. Despite his past behaviour, Mike being the first to acknowledge it, you can't help but pity him, he has led a life of confusion and interference from his numerous demons. Love him or hate him, there is no denying that Mike Tyson is truly unique and not what one expects. Which is why I advise anyone, particularly those who disregard Tyson, to watch this eye-opener, it won't necessarily change your opinion of the man, but surely you will be admiring his honesty.
Jack Hawkins
Super Reviewer
In Tyson, James Toback sets up a camera, sits the ex-champ down on a couch and lets him talk. And cry. And boast. And self-examine. And, mostly, self-justify. Toback calls his subject "a figure of staggering complexity." Actually, he's a figure of rather sad simplicity, a frightened and fatherless boy who grew up brutalized and grew to brutalize other people. That the ring afforded him, for a while, a chance to do that legally made him his fortune -- most of which he went on to throw away. What's doubly tragic is that Tyson still can't understand his own downfall. He was convicted of rape in 1992 and spent three years in prison. On camera now, he angrily declares his innocence, calling his accuser "a wretched swine of a woman." His insistence soon rings a little hollow ("I may have taken advantage of women before, but I never took advantage of her.") When he talks about women -- "I want to ravish them," "I want to dominate them sexually" -- it's in the language of aggression, not affection. Yet Tyson still thinks he's a good guy -- more sinned against then sinning, brought down by "leeches." By only interviewing Tyson, Toback lets him get away with it, too. Do Tyson's ex-wives have anything pertinent to add? Does Evander Holyfield, perhaps, have a differing point of view? It's a good bet, but you won't find them here. Instead, you will find a grab bag of occasional split-screens and sometimes overlapping or echoing dialogue -- all of which does more to obscure than illuminate the self-deceiving subject. It's a long, sad slide show of a man who had everything and lost it. The saddest thing is that this great fighter still doesn't seem to realize that he was his own fiercest opponent. Some elements of Tyson's story are utterly fascinating -- sadly, none of it gets more than a glossed over explanation (surely Tyson's hands-on involvement with the film had a lot to do with that). In the end, this documentary doesn't come anywhere close to recognizing its potential.
Jonathan Hutchings
Super Reviewer
Tyson Quotes
There are no approved quotes yet for this movie.