The Boys Are Back
(2009)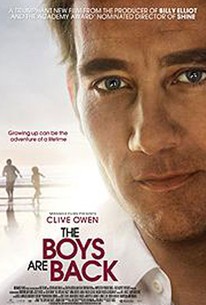 TOMATOMETER
AUDIENCE SCORE
Critic Consensus: Great performances by Clive Owen and The Boys save this melodrama from entering into the sappy territory it might have in less competent hands.
Movie Info
"The Boys Are Back" is the true story of a man who must suddenly raise his two sons alone after the untimely passing of his second wife. The ill-prepared Joe, who is dealing with his own loss, is confronted with the daily challenges of parenthood while coping with his young son Artie's expressions of grief. They soon are joined by Harry, Joe's teenage son from his first marriage, who brings his own personal "baggage" into the mix. Without a roadmap for how to move forward, the three boys decide its best to leave the conventional rules and responsibilities of the grown-up world behind and lead a life based on the mantra 'just say yes.' When things go terribly awry, Joe is forced to step up and behave like a parent, but must figure out how to do so without completely abandoning the joy and exuberance shared in their more child-like world.
News & Interviews for The Boys Are Back
Critic Reviews for The Boys Are Back
Audience Reviews for The Boys Are Back
A touching drama with a great melancholy soundtrack by Sigur Rós and an outstanding performance by Clive Owen as an adorable character whose actions you may not agree with but still you empathize with his honest efforts to raise his sons the way he believes to be the best.
Carlos Magalhães
Super Reviewer
½
Clive Owen is one of my favorite actors, and I've wanted to watch this for quite a while, just never had time and just kept passing it up. Finally got around to watching it and it's just ok. It's a drama about a sports journalist whose wife dies and he is left to raise their son, along with a son who decides to live with him from a previous marriage. Now he has to juggle his grief, his songs grief, his career, being a single dad, and life in general. The movie has some very touching scenes and sad situations. However, the movie is slow and the characters aren't developed enough that you really feel for them. I'm a sucker for movies where kids are heartbroken("Finding Neverland" or "Incredibly Loud and Extremely Loud"), but here the scenes where the boys have breakdowns didn't effect me much. Having said that, the acting is all very good, it's just the story and direction just didn't work all that great for me. It's worth a watch if you are in the mood for a decent drama, but otherwise just skip over it.
Everett Johnson
Super Reviewer
½
Would earn a higher rating if not for the overly drawn-out and weepy first act - fair enough, the movie had to show us that the hero really loved his amazing wife so that, when she spoke to him from beyond the grave later on, (or seemed to), the viewer would care... but 30 minutes could have been 10 and the filmmaker could have gotten right down to it, and shown us what is really here: a story about a man emerging from his selfishness and facing what he's done wrong to become a good father again. With beautiful cinematography, excellent child acting, and a standout performance by Clive Owen, you'll be glad you stuck with it to the end, but yeesh, that first half-hour...
Daniel Perry
Super Reviewer
The Boys Are Back Quotes
There are no approved quotes yet for this movie.