Splice
(2010)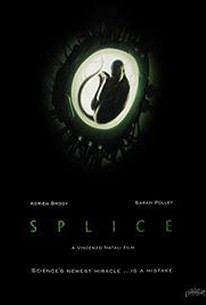 TOMATOMETER
AUDIENCE SCORE
Critic Consensus: It doesn't take its terrific premise quite as far as it should, but Splice is a smart, well-acted treat for horror fans.
Movie Info
Superstar genetic engineers Clive and Elsa specialize in splicing DNA from different animals to create incredible hybrids. Now they want to use human DNA in a hybrid that could revolutionize science and medicine. But, when the company that funds their research forbids it, Clive and Elsa secretly take their boldest experimentation underground -- risking their careers by pushing the boundaries of science to serve their own curiosity and ambition. The result is Dren, an amazing, strangely beautiful creature of uncommon intelligence and an array of unexpected physical developments. At first, Dren exceeds their wildest dreams. But as she grows and learns at an accelerated rate, her existence threatens to become their worst nightmare.
News & Interviews for Splice
Critic Reviews for Splice
Audience Reviews for Splice
½
It is frustrating to see such a fantastic idea and amazing development lead to a disappointing ending. The whole film builds as an intelligent and compelling sci-fi drama until Vincenzo Natali finally decides in the last fifteen minutes that it should be in fact a stupid horror story.
Carlos Magalhães
Super Reviewer
Entertaining albeit stupid genetic experiment thriller that can't decide how it wants to make the audience feel about its creature. The somewhat lousy special effects do not exactly help creating a connection to the "monster". Another problem are the characters that range from idiotic, flat to downright unlikable. So overall everything that happens makes you feel entirely indifferent.
½
A pair of genetic biologists succeed in splicing the DNA of various creatures with that of a human being and the resulting life form begins to take over their lives as they try to hide their secret experiment. Splice is very much in the old "mad scientists play God and reap the consequences" school of horror stories, giving the Frankenstein formula a modern sci-fi spin. In fact the story interestingly stays away from the man makes monster idea for the early stages, preferring David Cronenberg style psychological horror, particularly during the rather disturbing Mommie Dearest sequence and when the bizarre sexual ambiguity of their creation becomes apparent. Disappointingly it soon settles back into the usual creature feature for an overly predictable finale which is a shame because it was actually starting to explore some interesting ideas. The production design is a little suspect (baby Dren looks suspiciously like an oven ready chicken with a rabbit's head) but Brody and Polley are as watchable as always and it's weird enough to maintain the attention for the duration, but it's nowhere near as inventive as Prometheus which covered a lot of the same ground.
Splice Quotes
| | |
| --- | --- |
| Clive: | Why the fuck did you make her in the first place? Huh? For the betterment of mankind? You never wanted a normal child because you were afraid of losing control. |
| | |
| --- | --- |
| Elsa: | What do you want? What do you want? |
| Dren: | Inside... you... |