Vinyan
(2008)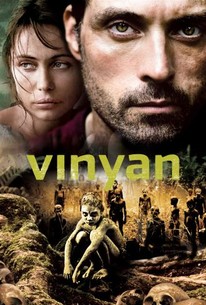 Movie Info
Parents looking for a missing child are led into a strange and dangerous netherworld in this thriller. Jeanne (Emmanuelle Beart) and Paul (Rufus Sewell) are a wealthy couple who were in Thailand helping to establish an orphanage when the 2005 tsunami leveled the island. Jeanne and Paul had a young son who disappeared in the storm, and since his body has never been found, Jeanne holds out hope that he might still be alive, a hope that becomes a desperate concern when she sees a video of children being held by kidnappers in Burma which shows a child who looks like her boy. Eager to find out the truth, Paul pays a hefty fee to local outlaw Mr. Gao (Petch Osathanugrah) to escort him and Jeanne into a forbidden zone known only to Thailand's criminal underclass near the Burmese border. Jeanne and Paul soon find themselves out of their depth in a strange land they do not understand where dangerous men commune with the spirits of the dead. The first English language project from writer and director Fabrice du Welz, Vinyan was an official selection at the 2008 Venice Film Festival.
Critic Reviews for Vinyan
Audience Reviews for Vinyan
½
'Vinyan' is a striking yet aimless film that fails to engage. The film charts Paul and Jeanne's search for their missing son after witnessing footage that leads them, Jeanne particularly, to believe that he is alive somewhere in the Burmese wilderness. Their son had gone missing during the 2004 Asian tsunami; however the film doesn't detail any of the event, which doesn't help in making the viewer care at all about the whole premise. Jeanne is somehow adamant that her son is alive, based on brief, bad quality footage. Indeed, Jeanne is unfortunately one of those irrational, hysterical, self-centred women that make films of this ilk rather irritating to watch. She regularly begins to feel sorry for herself, so much so that the task of walking across a muddy landscape is just too much for her and she starts falling over, clearly on purpose, to let her husband know just how discontented she is. Jeanne and her silicone injected lips lace the film with aggravation. Paul, who is going through this traumatic experience just as much as Jeanne, is measured and sensible, but he is still not a character one feels inclined to empathise with at any moment, apart from when his wife is being a pain in the arse, perhaps. I didn't care for their cause at all; the whole thing was a lingering shot of rain, landscapes and tribal children. At times the film was slightly creepy, but that was the extent of its power; considering I watched this film as part of the 'Fright Fest' season, that's quite a major flaw. Not only does this film not work as a horror, it doesn't work on any other level either. Due to its utter vacuity, there isnâ(TM)t much to say apart from that it is Art House nonsense - all visuals and no narrative.
Jack Hawkins
Super Reviewer
Think 'Don't Look Now' crossed with 'Lord of the Flies' but with characters drawn with such extreme bourgeois naivety that it's impossible to elicit the slightest sympathy for (precursors to the punchable leads of von Trier's 'Antichrist' for sure). The longueurs would be fine and cinematic if we liked or empathised with these people - I would have been quite thrilled by the slightly abstract, lingering close-ups of Sewell and Béart if the overwhelming urge wasn't to slap some sense into them. However it's still a very intriguing tease that gets so under the skin that it's hard to shake off too thoroughly without shuddering. Seared with some genuinely sinister and gothic sequences - horrid dream sequences that blur the line between what's real and imagined/dreaded, a vile dirty jungle so reeking of death and decay that you wonder why anyone would think anything living could be found there - it's not till it's over that, apart from humans, you realise we haven't encountered a single living beast or insect. It's nothing less than a descent into Hell of course. And the totally over the top, completely bonkers finale suddenly makes things worth the effort. Horrific, beautiful, disgusting and disturbing all at once. I would have laughed my tits off at it's final shots if I wasn't more than a little terrified.
William Sleet
Super Reviewer
I think Vinyan requires some serious empathy to get the full extent of what it's offering. I'm not entirely sold on Emmanuelle Beart and Rufus Sewell's chemistry - their solo performances are generally strong, if occasionally strained, most notably in Sewell's dramatic immolation. Nothing about their relationship, however, truly convinces. Most of the time they seem to be coexisting rather than actually interacting directly at one another; I don't know if this is a directorial choice or that the actors didn't like each other enough to be intimate (according to the DVD features, they hated each other), but in a tale where the husband must be totally devoted to the wife's delusions to sustain plausibility, it just leaves you wondering why the hell he's playing along with her. Its central conceit - being lost in a jungle with your slowly crumbling significant other, looking for your long-gone son - is full of potential and basally horrifying, but it's not appropriately scaffolded. It's also somewhat thin, all told, and there are times when it seems like Fabrice Du Welz is grasping for places to take the movie, such as a long and tedious search for a trafficker near the beginning. Vinyan is also exceptionally beautiful, visually and aurally. For his definite deficiencies, Du Welz can create an aesthetic composition that sticks. A boat cutting through the fog of a Burmese jungle; the bleeding greens and blues of a cheap Asian pleasure district; a feral child smearing blood-red lipstick all over his filthy face. Many such shots are dwelt upon for prolonged periods of time in Vinyan, giving the movie an imaginative, ponderous feel, like being lost in a rainforest dream. It's navel-gazing, sure, but I think the approach works for the movie. Complementing these visuals is a very sparse soundtrack - the wall of sound sensibility is probably sort of predictable, given the movie's aforementioned visual style, but I think it makes an interesting combination with the subject matter. When you think of nature, in Herzog's terms, as pernicious and almost sexually violent, the overbearing music adds to the sense of oppression that the couple surely feels. Anyway, this is leaps and bounds better than God-awful Calvaire, but still lacking. I'm excited to see Du Welz do work with someone else's script - he's currently directing what sounds like a Hostel ripoff, and though it could be totally derivative shit I'm sure he has it in him to produce something innovative. An interesting, watchable though not truly "good" sophomore effort from a young director.
Drew Smith
Super Reviewer
Vinyan Quotes
There are no approved quotes yet for this movie.