The Last Word
(2009)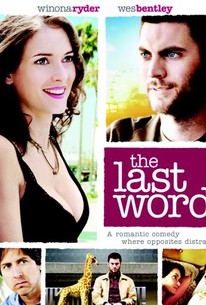 Movie Info
Wes Bentley and Winona Ryder star in director/screenwriter Geoff Haley's darkly comic romance centering on the relationship between a writer specializing in suicide notes and the unsuspecting sister of his most recent client. Evan Merck (Bentley) is a reclusive, Los Angeles-based writer whose unique way with words has earned him an unusual career as a professional suicide note scribe. One day, while attending the funeral of a dearly departed client, Evan forms a close connection with the deceased's sister Charlotte (Ryder). A free spirit who remains blissfully unaware of Evan's true connection to her late brother, Charlotte becomes fascinated by the introverted writer and the pair soon enter into a tenuous relationship. But Evan can't keep his secret from Charlotte forever, and as love continues to blossom between the unlikely pair, the writer quickly finds his snowballing deceptions growing into a rampaging avalanche that threatens to destroy not only his career, but his one true human connection as well. ~ Jason Buchanan, Rovi
Critic Reviews for The Last Word
Audience Reviews for The Last Word
A dark romantic comedy, The Last Word is a provocative film with a wry sense of humor. The story follows a writer that helps people compose their suicide notes as he falls for the sister of one of his former clients. The characters are especially well written and are given an exceptional level of depth. Wes Bentley and Winona Ryder lead the cast, and do an impressive job at handling the tone of the film. There are some storytelling issues, but despite its flaws The Last Word is a daring film and a compelling character drama.
Dann Michalski
Super Reviewer
½
Unique idea. Very slow moving, but kind of liked it, and nice to see Winona in a more recent film too.
Nicki Marie
Super Reviewer
Wes Bentley, Winona Ryder, Ray Romano DIRECTED BY: Geoffrey Haley A man (Bentley) who makes his living composing other people's suicide notes enters into a romance with the sister (Ryder) of a recent client. Morbid, odd, funny, and dark. That is the best way I can describe this movie. Not a feel good movie and not one you will come away feeling like, WOW. But none the less good. The performances were great. Really good to see not only Wes, but also Winona, in a lead. It's been awhile. Bentley's character has the worse but yet some how interesting job. Makes you wonder if one like that exists. Romano lends himself to a great comedic supporting role who brings the laughs but who is also disturbed by his own demons. This movie is a breath of fresh air when it comes to seeing the same stories being made over and over again. Unique, and like none I have seen. The ending was satisfying for me. Wes Bentley is my main reason for seeing it. Loved him in "American Beauty". Loved him in this movie as well. Wish he was given more movies cause I think he's fab. Definitely worth the watch. Hope more people see it.
♥˩ƳИИ ƜѲѲƉƧ♥
Super Reviewer
The Last Word Quotes
There are no approved quotes yet for this movie.