The Twilight Saga: Eclipse
(2010)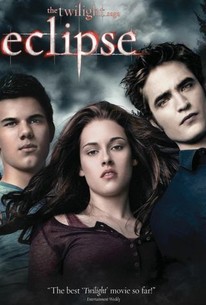 TOMATOMETER
AUDIENCE SCORE
Critic Consensus: Stuffed with characters and overly reliant on uninspired dialogue, Eclipse won't win The Twilight Saga many new converts, despite an improved blend of romance and action fantasy.
The Twilight Saga: Eclipse Photos
Movie Info
The third film in the Twilight series explores a love triangle between Bella (Kristen Stewart), Edward (Robert Pattinson), and Jacob (Taylor Lautner) as the werewolf pack and the Cullen clan join together to fight a new breed of vampires. Melissa Rosenberg provides the screenplay for the Summit Entertainment adaptation of Stephenie Meyer's best-selling novel, with director David Slade calling the shots behind the camera. Bryce Dallas Howard joins the cast as Victoria, the role originally played by Rachelle Lefevre in the first film. ~ Jeremy Wheeler, Rovi
Critic Reviews for The Twilight Saga: Eclipse
Audience Reviews for The Twilight Saga: Eclipse
With awful dialogue, ridiculous plot contrivances and painful acting by everyone, this movie could be easily subtracted from the series without any loss - and it is actually a mystery how a poor narrative like this can be called a "saga" when nothing ever really happens.
Carlos Magalhães
Super Reviewer
More teenage angst and more brooding close ups galore. This franchise has a good story to be fair, after reading up on the whole thing its actually pretty neat and better than Harry Potters ever confusing character mad adventures. I realise this is probably based more towards teenage girls but one problem with this film series is the frustrating teen hormones and flirting *yawn* it really does get fudging annoying and wrecks a good supernatural idea, and yes I know that's the whole idea of the premise but its still damn annoying. Bella continuously goes around pissing off both male leads because she can't choose *groan* so she continuously flirts between the two. What's so daft about the whole thing is how all the vampires in one coven, and all the shape shifters in one pack go out of their way to protect and shelter Bella despite putting themselves in mortal danger all the time!! I wouldn't. In spite of many silly/annoying little factors this third film isn't actually too bad, the first was OK, the second was a little worse but this is better as we are in the thick of the plot now things are more interesting, we still gotta sit through allot of boring talk and teen love spewing but we do see some origin flashbacks for vamps and wolves plus a pretty good fight sequence at the end which makes up for allot of crapola. The CGI is still a touch dodgy with the wolves and generally nothing special but its just acceptable. Acting is more Aussie soap opera at best but again just acceptable. At the end I did find myself wanting to see the forth and final chapter so job done for the director. This is probably the first 'soap opera' flick franchise I've come across and I'm actually liking it so far!! more 'Buffy' meets 'Beverly Hills 90210' but some how it does appeal to me, probably the vampire fanboy inside. Its slowly getting good after a sluggish start so don't write it off too quickly.
Phil Hubbs
Super Reviewer
½
Eclipse is uninspiring and yet more action-based than its previous two installments. Though the action brings it up a step, the rest of its direction brings down further to the trenches. 2.5/5
Eugene Bernabe
Super Reviewer
The Twilight Saga: Eclipse Quotes
| | |
| --- | --- |
| Jane: | Either we let them do what they were created for, or we end them. Decisions, decisions. |
| | |
| --- | --- |
| Jacob Black: | "I'm exactly right for you Bella, it would be as easy as breathing with me" |
| Jacob Black: | I'm exactly right for you Bella, it would be as easy as breathing with me. |
| | |
| --- | --- |
| Bella Swan: | Jacob kiss me |
| Bella Swan: | Jacob kiss me. |
| | |
| --- | --- |
| Alice: | "why do i see you running off to get married in las vegas?" |
| Alice: | Then why do I see you sneaking off to Vegas to get married without inviting me? |