Extract
(2009)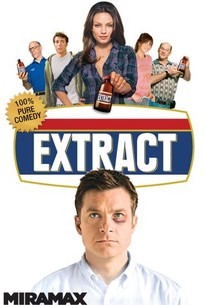 TOMATOMETER
AUDIENCE SCORE
Critic Consensus: Extract has some very funny moments and several fine performances, but the film feels slighter and more uneven than Mike Judge's previous work.
Movie Info
Jason Bateman, Mila Kunis, Ben Affleck, Kristen Wiig, Clifton Collins, and J.K. Simmons star in writer/director Mike Judge's comedy about a flower-extract plant owner contending with an ever-growing avalanche of personal and professional disasters. An employee at the factory has just suffered an unfortunate accident on the assembly line, but little does the put-upon owner realize that things are about to get much worse. As the injured employee threatens to sue and it begins to look like his company will be bought out, the frazzled owner attempts to catch the culprit responsible for stealing wallets from the coat room and begins to suspect that his wife is sleeping with the gigolo he hired to seduce her. ~ Jason Buchanan, Rovi
Critic Reviews for Extract
Audience Reviews for Extract
Mike Judge has always made some terrific comedies. With Extract he again makes a fun, and entertaining comedy, but compared to his other films, Extract lacks a bit. The cast are good, and there's plenty to enjoy, but it leaves something to be desired. Though I liked the film, I felt that it could have been better. The talent here involved are good in their performances, but compared to some other of Judge's films, this is a film that is quite forgettable. Extract is good, but should have been better. However, there are enough jokes here to make this is a worthy viewing experience. I really liked the film despite its flaws. Mike Judge crafts a good film here; just don't expect another Office Space or Idiocracy. There are plenty aspects that work well here, but like I said, the film needed a bit of rewrite or two to make it standout among others than Judge has made. Fans of his work will most likely enjoy it, and the film is pretty funny, but in some areas, the film is a bit long and boring. Extract is good, but should have been better. Despite its limitations, the film is entertaining, but it never reaches its full potential. If you want Mike Judge's best film, watch Office Space instead, this one has some elements that you've come to expect from Judge, but falls short on occasion, and ends up being one of his most disappointing effort. Despite this, I liked it, but it leaves a lot to be desired. Extract is good, but Mike Judge has clearly made better movies.
½
Despite of the nice cast this comedy is somewhat forgettable and does not leave much of an impression. The exception is Gene Simmons as slimy lawyer, which is pretty hilarious.
½
My grade is probably a bit inflated, but it's hard to ignore my bias toward Mike Judge. He gets workplaces. He gets satire too, even if the stuff on display here is more blunt and low-key than it probably should be. Although it is nowhere near the same level, this film had a fairly evident feeling of being Coenesque, which I consider to be a really good thing. In their hands, this would have been more of a masterpiece. As it stands, it's a gem, but it's really rough. It leaves a lot to be desired, and the humor is a tad too subtle in places, but I still laughed, and was still very much entertained. As decent as Bateman is, the supporting cast is where its at. Wiig is good, if slightly underused; Judge in his uncredited cameo is funny, as is a riotous Gene Simmons. It is Clifton Collins, Jr, Beth Grant, J.K. Simmons, and (most of all) Ben Affleck and David Koechner who really steal the show. Koechner is really funny, but Affleck manages to edge him out slightly. Everything about Dean is funny and appealing (as a character): his beard and hair, his mannerisms, his outlook on life...he's just this groovy whacked out cat, and it's definitely what Affleck needs to rebuild his still tarnished career. So yeah, this is a hit, albeit a minor one, but fans of any of the cast (even Mila Kunis is actually fairly believable), workplace comedies, deadpan delivery and humor, or Judge should find something to enjoy here.
Chris Weber
Super Reviewer
Extract Quotes
There are no approved quotes yet for this movie.