The Debt
(2011)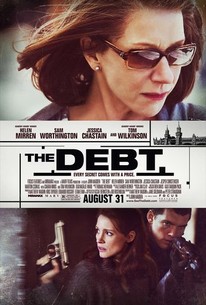 TOMATOMETER
AUDIENCE SCORE
Critic Consensus: Its time-shifting narrative creates distracting casting problems, but ultimately, The Debt is a smart, well-acted entry in a genre that could use more like it.
Movie Info
The espionage thriller begins in 1997, as shocking news reaches retired Mossad secret agents Rachel (Helen Mirren) and Stephan (Tom Wilkinson) about their former colleague David (Ciarán Hinds). All three have been venerated for decades by their country because of the mission that they undertook back in 1966, when the trio (portrayed, respectively, by Jessica Chastain, Marton Csokas, and Sam Worthington tracked down Nazi war criminal Vogel (Jesper Christensen) in East Berlin. At great risk, and at considerable personal cost, the team's mission was accomplished - or was it? The suspense builds in and across two different time periods, with startling action and surprising revelations. -- (C) Focus
News & Interviews for The Debt
Critic Reviews for The Debt
Audience Reviews for The Debt
An impressively shot but ultimately dissatisfying exercise in getting revenge on the Nazis for their crimes against humanity, with this story taking focus on a sadistic doctor (Jesper Christensen) who fled Germany after ruthlessly operating and experimenting on the many Jews that came through the concentration camps. After twenty years, his whereabouts are discovered, and three agents (Jessica Chastain, Marton Csokas, and Sam Worthington) are sent to capture him and bring him to justice. The movie constantly shifts between flashbacks of the agents, their mission, and the problems they face, to thirty years later when they are older (played by Helen Mirren, Tom Wilkinson, and Ciaran Hinds, respectively) and wear a distinct look of regret on all of their faces for some unknown reason (until the film's middle-section explains why). These shifts in time create an uneasy balance despite the excitement the flashback scenes hold, including what may be the best Sam Worthington performance to date. It is not a terrible movie, but it could have been so much more with better direction and overall better construction of the story and how to tell it. The acting is expectedly top-notch, which gives the story life when in most cases it would start to lose its audience, but by the end of the film, you can not help but be a little disappointed that a fascinating story like this was not better executed.
Dan Schultz
Super Reviewer
½
I was interested in seeing this Hollywood version as I enjoyed the Israeli film that is the source material. As for the source material: The story is an interesting one, involving both personal and national pride, and filmed and paced so matter of factly - almost like a play (which occured to me at one point - you could put this on the boards and it would work quite well), that for long periods you'd swear you were witnessing it firsthand. The clumsiness of the entire affair is so very natural, which I'm guessing will be removed in the Hollywood version - whether that's a plus or minus remains to be seen. I'm very intrigued to see how this is handled in Hollywood - for in the right hands you could take the bare bones of the Israeli film and ramp up the tension even further (with better pacing, etc.) **** (on to a review of the 2011 film) ****** Having seen the 2007 source film, I was anxious to see what Hollywood would do with this; and I have to say they stayed pretty close to the source material, both in tone and content, and strayed only to fill out scenes that actually added to the tension (while losing a bit of the claustrophobic feeling of the 3 agents locked inside a dank East Berlin flat). Helen Mirren is the big name here - and really, she doesn't do much, as so much of the story is a flashback involving her younger self, portrayed well by Jessica Chastain (who seems to be in just about everything in the last two years). Other "oldsters" include Cairan Hinds (who really amounts to nothing more than a cameo) and Tom Wilkinson. Both Mirren and Hinds (in fact just about everyone in the cast) adopt this Jewish accent - which occasionally falls by the wayside. The story, is a compelling one - Chastain, Sam Worthington (playing the younger Hinds), and Marton Czokas (the young Wilkinson) are sent to East Berlin in 1966, as it is believed that Holocaust butcher Doktor Bernhardt (in a wonderfully studied, and yet kinda creepy performance by Jesper Christenson) is working there as a GYN. The trio hatch an elaborate plan to capture and then transport Bernhardt from Russian controlled East Berlin (before the walls came down), to Israel to stand trial for crimes against humanity (specifically against Jews). A tight thriller ensues as the trio makes the kidnapping, but then in a rather cool scene that is NOT in the source film, they are unable to make the connection to get their prize out of Russian territory. What ensues is a waiting game that wears on all three, while all the while the Doktor observes and begins to pit one against the other. As with the source film, if the film would have stopped with the trios' return to Isreal, you would have had a truly fine film - but both films decided to invest in the "debt" part of the calculation, leading in the first film to some almost laughable hide and seek, and in the 2nd to a distasteful bit of 70 and 80 year olds fighting for what's left of their lives. Then, to make matters worse, the Hollywood version throws in a bogus tag ending necessary only as some moral high ground, do the right thing, universe that plays totally false to the rest of the film. In conclusion, not a bad film - in fact the first half is quite good - but the last bit and some questionable rewriting by the Hollywood factory, make this fair watching, but not a gem.
paul sandberg
Super Reviewer
[img]http://images.rottentomatoes.com/images/user/icons/icon14.gif[/img] Original thriller storylines have become show stopping, and unfortunately one doesn't come around that often. But this film is an entertaining, well acted and pleasantly witty espionage thriller. It deserves loads of praise for boasting a unique premise however I struggled to see how it was living up to it's full potential. Due to it's confusing narrative The Debt brought about a severe case of self-aggrandizing ambition overdose. It never knows when to cool down and too often switches it's genres aimlessly. It begins as a character drama, then becomes the thriller it wanted to be, then a fish out of water romance and finally a drama again. It's one of those films that never knows when it's on the right track. Consequently various plot holes start to appear among cliched character development and eventually a sense of self indulgence. But what saves it is terrifically outstanding performances from it's solid, talented cast and some very cleverly paced action thrills. Helen Mirren and Jessica Chastain are naturally brilliant despite being on autopilot. Sam Worthington is the weirdest surprise as he actually proves that he can act. Some dull and lifeless forerunner performances make this particular role stand out. After it's confusing start, unexpected plot twists flesh out the suspense, although it could have beneffited as a whole if it the plot was linear. So it's by far and away not a masterpiece as it lacks any outstanding moments that will stay in memory but overall the simplicity of it's intrigue underneath the baggage of it's running time and entirely unnecessary time twists is a really thoughtful and fun thriller idea that I would definitely recommend seeing at least once. I suppose the fact that you can't say much about it goes to prove just how unremarkable it is.
Directors Cat
Super Reviewer
The Debt Quotes
| | |
| --- | --- |
| Doktor Bernhardt/Dieter Vogel: | This is my hand. This is the speculum |
| | |
| --- | --- |
| Doktor Bernhardt/Dieter Vogel: | You Jews don't know how to kill. Only how to die. |
| | |
| --- | --- |
| Rachel Singer: | We can't go back. |
| | |
| --- | --- |
| Rachel Singer: | My name is Rachel Singer. Please publish what you are about to read. In 1965, I was part of a mission to kidnap Dieter Vogel, The Surgeon of Birkenau, and bring him to Israel to stand trial. We have always claimed that Vogel was killed, trying to escape. But this was a lie. A lie I have lived with for thirty years. And now I understand that I must tell the truth. |